Traditional Rulers Hail Danbatta Over Role in Security, National Development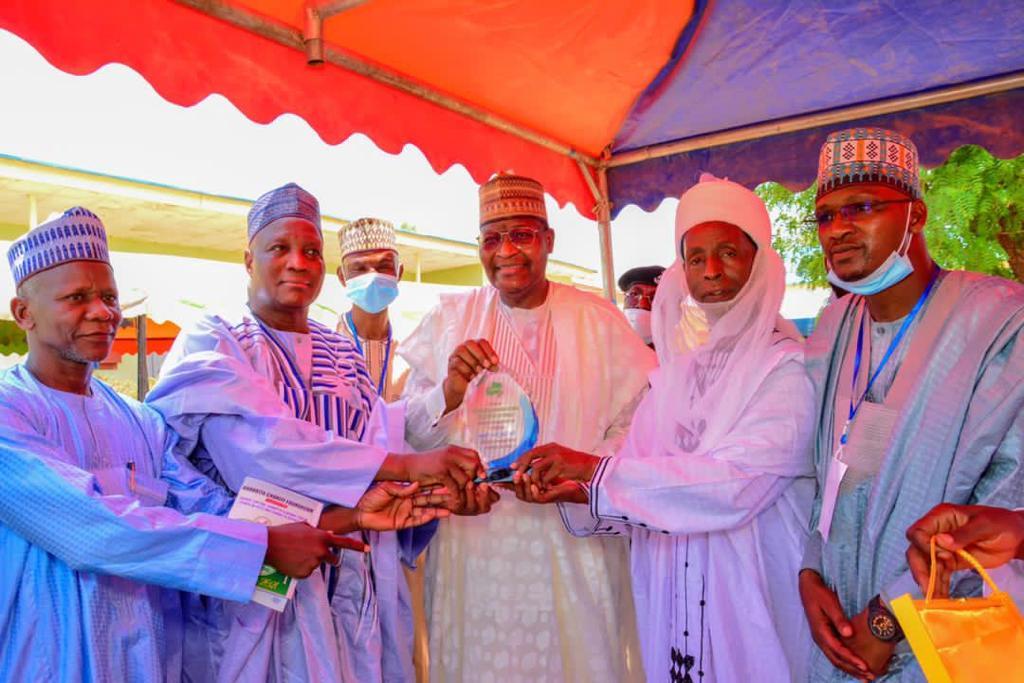 Photo: Executive Vice Chairman, Nigerian Communications Commission (NCC), Prof. Umar Garba Danbatta (centre) flanked by traditional rulers and community leaders of Danbatta community during the presentation of recognition award to him in Kano over the weekend.
Traditional rulers and concerned community leaders have commended the Executive Vice Chairman and Chief Executive Officer of the Nigerian Communications Commission (NCC), Prof. Umar Garba Danbatta for his role in boosting security and supporting other initiatives aimed at developing Danbatta Local Government Area, Kano State and its environs, as well as his efforts toward national development.
The traditional rulers and the community leaders spoke at an event organised by Danbatta (Community) Charity Foundation (DCF) in conjunction with four other organisations including Zauren Tuntuba, a non-for-profit organisation; Danbatta Academic Forum (DAF); Danbatta Reporters and Duniya Ba Hutu, in Danbatta community, Kano at the weekend.
The event was the graduation ceremony of 10 female students from Muslim Community College of Health Sciences and Technology, Funtua and another 20 empowered females in vocational training focused on tailoring and fashion, all of whom were sponsored by Prof. Danbatta.
The event, which featured the provision of sewing machines and other fashion tools to the two sets of graduands, also saw Prof. Danbatta being conferred with a special recognition award for his immense contribution to the security of Danbatta community, among other community development initiatives.
Speaking for traditional rulers, the Sarkin Bai of Bichi Emirate and District Head of Danbatta, Alhaji Isiyaku Wada Waziri, stated that, "one of the most important things anybody can give to Nigerians presently is security because without security, no business will prosper and people will not live in peace," adding that "That is why, among all the efforts that Prof Danbatta has made to support the community, his support in the areas of security is valued the highest."
He emphasised that the local community had witnessed improvement in its security efforts following personal security support received from Prof. Danbatta. "Danbatta has been at the forefront of supporting the community in the area of security by sponsoring vigilante groups and financing all aspects of security planning in the local government area and these efforts have continually yielded positive results." Waziri said.
He further urged Prof. Danbatta not to relent in his philanthropic gesture of helping the community and acknowledged the critical role which the Danbatta-led NCC is playing in leveraging the use of Information and Communication Technology (ICT), through the Emergency Communication Centres (ECCs) which NCC is implementing across the country, in enhancing security of lives and property in the country.
In the same vein, one of the leaders of the community and Chairman of DCF, Alhaji Nasiru Danguda, spoke glowingly by reeling out various initiatives by Prof. Danbatta towards contributing to the overall development of the community.
Responding, the EVC thanked the Foundation, its partners as well as the community leaders for recognizing his modest contributions to the development of the Danbatta and neighbouring community, saying "this gesture can only encourage us to do more for our community."
Ayo Ajayi, MTN Foundation Celebrate Nigeria's Icons and Promote Youth Empowerment in OMG the Musical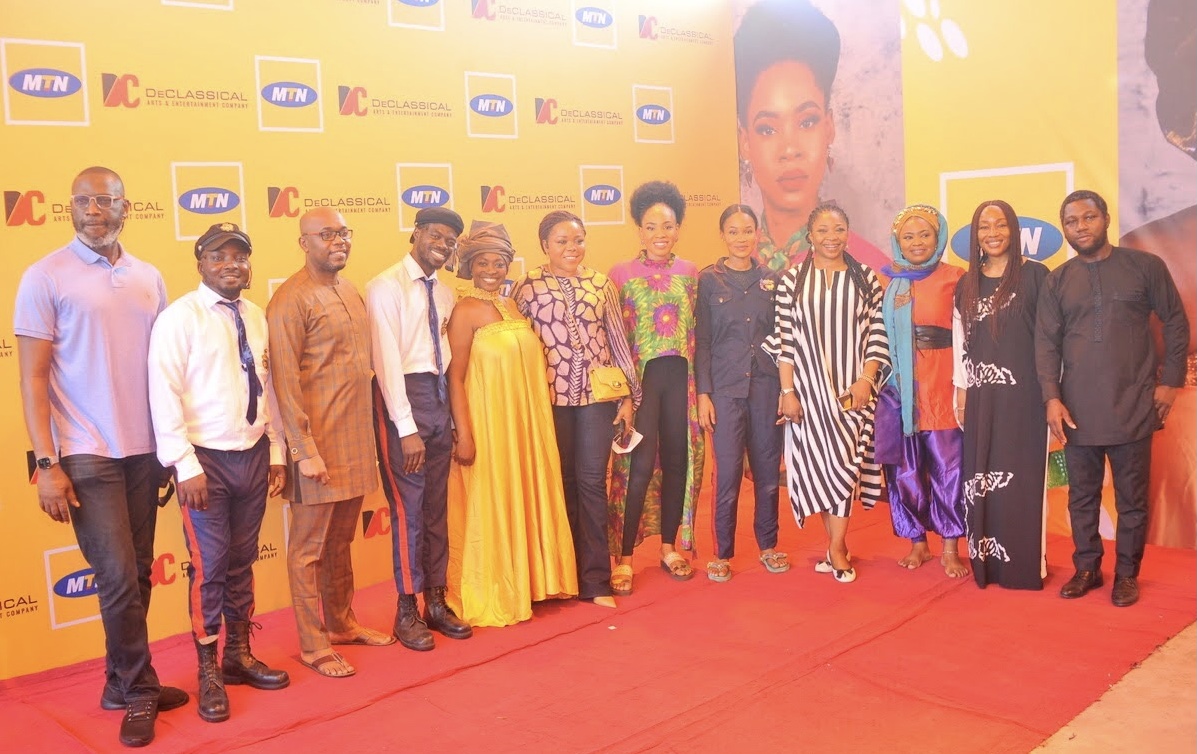 The reenactment of one of Nigeria's best-known musicals, OMG the Musical, was staged at Shell Hall, MUSON Centre. The show was a product of another successful partnership between the MTN Foundation and Ayo Ajayi, the producer of the musical.
The musical details the story of a fictional Gafuma, a woman marginalized by the patriarchy and denied opportunities she was qualified for, who time-travels to the past where she meets Nigerian icons, including Funmilayo Ransome-Kuti, Margaret Ekpo and Gambo Sawaba. The musical highlights the systemic oppression of women and its manifestation in form of female genital mutilation, rape and workplace inequality.
Reputable actor, Wale Ojo, who was spotted enjoying the show, described it as "excellent" and stressed the need to remember and celebrate the feminist icons that toiled hard to create change, "First of all, my rating of the show is like nine on ten. It is such an excellent show. I think it addresses some of the major ills of the Nigerian society at the moment which is "collective amnesia."
The term "collective amnesia" means that we forget easily those who have shaped our future. Those same people are the strong women of yesterday – the Funmilayo Ransome Kutis, Margret Ekpos, Zulu Shofolas. They are the women that have shaped our future but we have forgotten them. We have deserted them. Most importantly, we have deserted our fountains of wisdom and teaching and this play teaches us to go back to that."
Explaining why the MTN Foundation chose to support the project, the Executive Secretary, MTN Foundation, Odunayo Sanya, stated, "At the MTN Foundation, we are committed to promoting stories that are capable of positively shaping society. We believe that stories with messages that advance efforts towards creating a more equal and safer world for all women are very important because beyond entertaining the audience, they spark conversations on this very important issue. More importantly, we support the arts, especially young people like Ayo Ajayi because we believe in the youth and we see arts as a veritable tool for youth empowerment."
Speaking on the challenges the production team and theatre industry face and MTN's role in helping them overcome, Ajayi said, "The process of bringing this musical to the stage was very challenging. The problem we have in this sector is finance. People don't believe in investing in this kind of thing and I can tell you that the greatest export that can come out of Nigeria is the arts. We are very good at what we do. Nigeria can create the next Broadway, the next West End.
"But are we thinking in that direction? Absolutely not! This production has actually brought together almost 100 youths from different fields – acting, dance, drama, light, designing, costume, amongst others. As such, without proper financing, things like this won't happen. That's why we really appreciate MTN for looking into this sector and they have been doing it consistently. Without organisations like MTN, this would not have happened."
Further expressing his gratitude to MTN for its support and contribution to youth empowerment, he said, "I will like to say that I love MTN with all my heart. They are the greatest supporters of the arts industry in Nigeria. The thing is that when you support the arts industry, you end up supporting and empowering a lot of young people. What MTN is doing goes beyond the arts and culture sector, rather, I regard it as a full-blown youth empowerment scheme. Based on MTN's contribution I'm sure a lot of people would still come into this sector. The youths of this country are our oil. We should focus on them because they show a lot of creativity ranging from digital media, light design, motion graphics, amongst others."
Waje, Elvina Ibru and Ufuoma McDermott Deliver Outstanding Performances at MTN Foundation-Sponsored Flower the Musical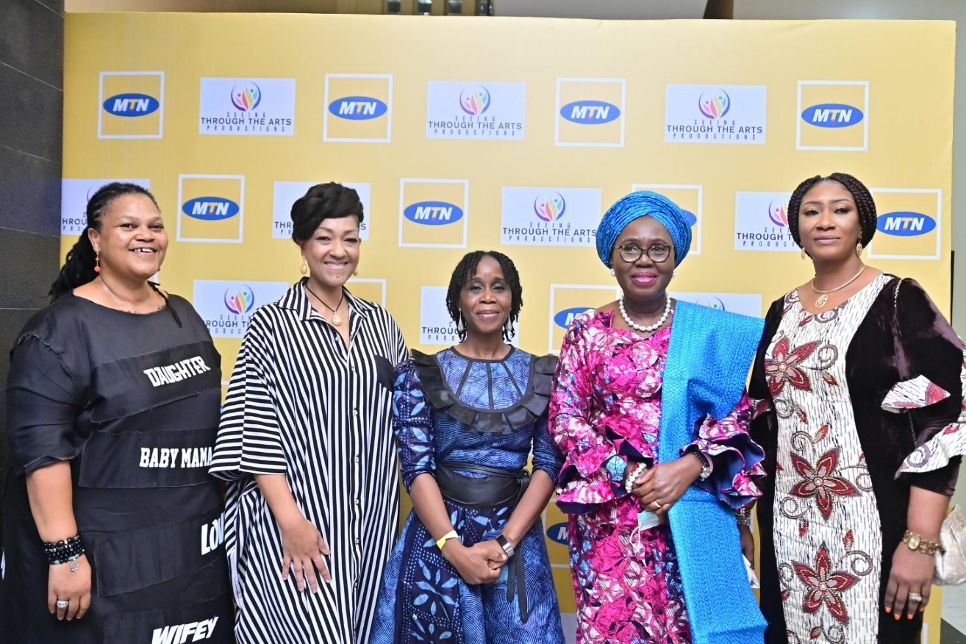 The MTN Foundation has remained consistent in its drive towards promoting the meaningful artistic works of Nigerian creators in the theatre industry. Its recent collaboration with seasoned producer, Gbenga Yusuf, brought a reenactment of Flower, the Musical to the Glover Memorial Hall stage.
The show featured some of Nigeria's most celebrated musical and acting talents including Waje, Elvina Ibru and Ufuoma McDermott who delivered brilliant musical and dance numbers, while telling the stories of the characters.
Flower, which is a musical monologue, tells the story of six women – a faithful wife, an accused murderer, a corporate leader, a religious hopeful, a trophy wife and a sex worker, who navigate complex issues relating to their existence in a modern Nigerian society, while promoting the emancipation of discriminated women.
Speaking about his experience working on the project, the director Gbenga Yusuf said, "This is the second time we are bringing Flower the Musical on stage. The experience was very good and encouraging. There were a few difficulties at some point. However, it was expected. We appreciate the immense support we got from everyone – the actors, the cast, the crew,the institutions and corporate organizations like MTN."
Commenting on the MTN Foundation's decision to support the project, the Executive Secretary, MTN Foundation, Odunayo Sanya, stated, "The MTN Foundation is heavily invested in the youth of Nigeria. This is because the country's population is largely made up of young people. For us at MTN Foundation, it was a call to action to support this production, particularly because it speaks to a vulnerable segment of the Nigerian population which is the women. We found the story very intriguing. Over the years, it has been tough for women. Not every woman speaks out, but we find this gives a lot of strength to women to know they're not alone whenever they go through things like rape, genital mutilation, abandonment, and neglect. So, for us, it's a way to leapfrog a very important part of the social segment, which is the women and also the men."
Yusuf expressed gratitude to the MTN Foundation for its support for the production and the Nigerian theatre industry. In his words, "The MTN Foundation is magnificent. If not for the MTN Foundation, I don't think Flower the Musical would be standing today. They are the strongest support we have in the show. Without MTN, I can't imagine what will happen in the theatre industry. They've supported capacity building amongst students. They even make sure they support young directors, young dancers and young cast. I mean MTN everywhere you go."
When asked about theMTN Foundation's future plans in advancing theatre in Nigeria, Sanya said, "I think for us, theatre production is about contributing to the country's socio-economic development. I feel theatre productions are an avenue for creating jobs and also providing training. MTN Foundation has also partnered with theatre arts students of Nigerian universities and it was practical for them. They built the set and designed the costumes. For us, it is about the socio-economic impacts. It is for us to skill and empower young people so that they can stand on their own; contribute meaningfully to the economy; and also tell Nigerian stories in unique ways."
Canon Collaborate With Nigeria, Egypt, Kenya Creative Communities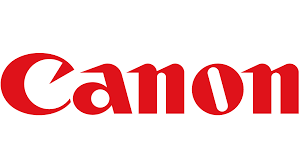 Canon Central and North Africa (CCNA) has invited film and photography communities across Africa to connect and collaborate. They are excited to announce the first three: SYNC School in Cairo, Egypt; Peexoo, a Nigerian photography hub, and the Photographers' Association of Kenya (PAK).
More are welcome as the global imaging leaders would like to develop creative collaborations in every country in the region. Canon has been a long-standing supporter of film and photography education groups. These relationships can now go deeper by sharing Canon expertise, knowledge and technology, with regular masterclasses, training opportunities, photo booths and competitions.

Canon is committed to build closer ties with its customers and the collaborations are a way to inspire and enrich the next generation of image-makers. "Our mission is to empower people to see the bigger picture, on a grand yet local level," explains Amine Djouahra, sales and marketing director for Canon Central & North Africa. "In this rapidly changing, image-based culture, we want to explore new and innovative ideas with a wider audience."

There has been an enthusiastic response: "SYNC is a community based school of 94,000 for creatives in Egypt with photographers, filmmakers and content creators. We are thrilled to build this relationship with Canon and learn, grow and create together," said SYNC's founder and creative director, Mustafa Sharara.

Peexoo, a photography hub powered by artificial intelligence, brings together 2,000+ photographers and videographers from across Nigeria. "We change perceptions through film and photography," said Peexoo Co-Founder, tech-preneur Steven Kelechi Nwadike. "We are ecstatic that Canon is joining us on this journey."

The Professional Photographers' Association of Kenya (PAK) is the leading photographic society in the country, representing professionals, amateurs and hobbyists. "We are proud to partner with Canon at this time, a collaboration which will uplift, inspire and encourage our photographic community," said Victor Otieno, PAK Treasurer.

Through the collaborations, community members gain exclusive access to masterclasses with Canon ambassadors including Emmanuel Oyeleke (https://bit.ly/3xpFaOD) and Yagazi Emezi (https://bit.ly/2SHkx1A) who will present a masterclass to Peexoo members and Menna Hossam (https://bit.ly/3vvefzE) who will present "Fine art and fashion photographer: Challenges of this genre & the future of creating enchanting images in the era of social media", to SYNC School members.

Regular competitions will be used to challenge and inspire with exciting prizes such as Canon's mini phone-to-printer Zoemini, the portable Selphy and the G-Series printers, as well as a compact Powershot SX720 and mirrorless M50 cameras.

Hands-on 'touch and try' sessions with cutting-edge Canon R system technology, EOS cameras and lenses are in the plan with special, members-only discounts available on Canon equipment.

Canon's interest in developing and recognising excellence both in amateur and professional photographers goes beyond this. The Canon Future Focus programme for students is in its fifth year and the inaugural Redline Challenge for amateur photographers received great response in entries from African region.

"We believe in enriching local creatives and welcome the opportunity to connect and support the next generation of visual storytellers. By investing expertise, technology and opportunities in them, we hope to enhance their art, skills and future careers," said Amine Djouahra.