Winner of BBC television show The Apprentice:Joseph Valente
Winner of BBC television show The Apprentice Joseph Valente has today been announced as a keynote speaker at the Smart Summit London 2016, with details of new Smart Home services from his company Impra Gas Limited set to be revealed.
For more information about his keynote speech and Smart Summit London, please see the full press release below.
Bossbus Technologies Partners Jim Iyke On New Movie
L-R: CEO, Bossbus; Oluwatobi Johnson Fakayode, Actor and Movie Producer; Jim Iyke and Chairman, Board of Directors, Bossbus; Felix Achibiri at a Bossbus press conference in Lagos recently.
Revolutionary transport technology company, Bossbus has announced a partnership with Nollywood Actor and Movie Producer, Jim Iyke for his debut production and film, Bad Comments.
This partnership, one of the many projects Bossbus plans to take part in this year, is focused on providing safe luxury transport tech services to Sixth Sense as they drive home the message of the movie, Bad Comments.
While speaking at a press conference after signing a contract with Bossbus in Lagos, Jim Iyke expressed his love for the brand. In his remarks, he stated that "Bossbus is like family. This union goes way beyond the call of business. We will take Bossbus to the next level because I don't see any better brand to partner with asides from this one."
For Bossbus, the relationship with the entertainment industry is the beginning of a new journey. Addressing pressmen on the collaboration, CEO, Bossbus; Oluwatobi Johnson Fakayode explained that the transport tech company will be promoting the movie and the entertainment industry due to the latter's ability to showcase Nigeria's innovation to the world.
He stated that "The entertainment industry is the biggest ambassador of Nigerian innovation and tech industry."
Reflecting on Bossbus' connection to the Nollywood Actor, Mr Fakayode said, "There's no other person that depicts the image of a 'Boss' rather than Jim Iyke. Jim Iyke is a very humble and forward-thinking man and there's intermediation between our services and the movie. We're very proud to be associated with him and Sixth Sense."
Bossbus has been at the forefront of transforming the transport and technology industry with its integrated charter services, ride-hailing or fleet optimization program that provides safe, reliable, affordable and comfortable commuting experiences for its many customers.
The tech company's mandate is not just to aggregate the majority of underserved sectors of the transportation industry like the vehicle, water, boat and air charter and rental services but to uplift the tech ecosystem by providing and promoting growth for technology developers and experts, especially in Nigeria.
ALAT by Wema Targets Young Nigerians With Wealth Management Talk Series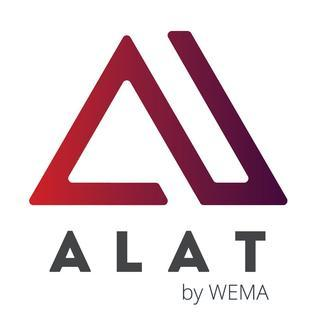 Nigeria's leading digital bank, ALAT by Wema, on Thursday, July 15, 2021 hosted the first edition of its Talk Series. The session which was held on the social networking application Clubhouse was themed, "Wealth Creation and Wealth Management for Nigerians Under 30."
The session was moderated by personal finance guru, Tosin Olaseinde with the Chief Digital Officer Of Wema Bank, Olusegun Adeniyi, and Popular Nigerian Vlogger, Sisi Yemmie as speakers.
The ALAT Talk Series is one of the many ways the bank is showing support for young Nigerians across the country – and at this first session, they provided an opportunity to discuss key issues such as money and finance, as well as business management, and entrepreneurship.
For Tosin, her foray into the promotion of financial literacy began when she kept getting broke despite earning a considerable wage. Yemisi Odusanya, popularly known as Sisi Yemmie on the other hand was able to monetise her skills and things she loves doing. Now, she is a renowned vlogger making money from her vlogs, meal plans, and recipes.
On his part, Olusegun Adeniyi shed more light on the role of the fintech industry in empowering young Nigerians. He also elaborated on ALAT by Wema's role in supporting young Nigerians through various youth-focused initiatives. ALAT and Wema have jointly provided advisory services for small and medium scale enterprises through loans and other business support initiatives. "ALAT is truly with its customers all the way. Recently, we opened an SME school to aid the growth of SMEs in the ecosystem. We have our customers and the youths at heart and we will further support them in our capacity."
Funmilayo Falola, Head, Marketing, Corporate Communications and Investor Relations, Wema Bank commented on the bank's decision to Launch a talk series targeted at young Nigerians. "As part of our commitment to continually support young Nigerians in their endeavours, we have decided to host this Clubhouse session. As a brand, ALAT by Wema strongly believes in the need to invest in young people who will in due time become seasoned professionals and experts in their respective fields. We are supporting them with capacity building initiatives, and programmes that will empower them," she said.
According to a report published by the National Bureau of Statistics, 33.3% of Nigerians are unemployed. This means that about one-third of Nigerian youths are unable to find jobs. Sessions like the ALAT Talk series are essential to give young Nigerians a safe platform to discuss entrepreneurship, money management, and other issues that can help in bridging the employment gap and fostering innovative ideas to ease the heavy financial burden on Nigerians.
Airtel Reaffirms Commitment to Building Communities as 'Touching Lives Season 6'Kicks Off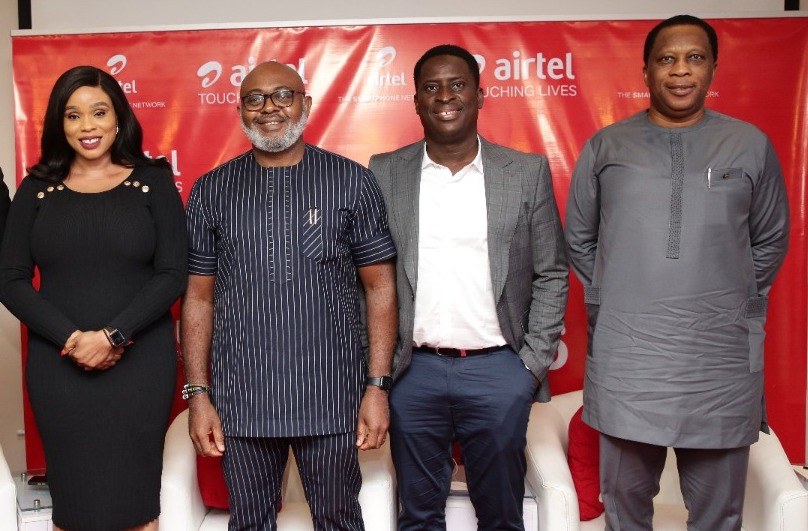 Photo: L-R: Chioma Okolie, Lead, Corporate Social Responsibility; Emeka Oparah, Vice President, Corporate Communications & Corporate Social Responsibility; Erhumu Bayagbon, Head, Public Relations and Olusina Adegoke, Regional Operations Director, Lagos Region all of Airtel Nigeria at the Airtel Touching Lives Season 6 Media Launch in Lagos.
Leading telecommunications services provider, Airtel Nigeria, has reaffirmed its commitment to empowering and uplifting vulnerable people, building communities and creating value for all its stakeholders as it announces the commencement of the sixth edition of its flagship CSR intervention, 'Airtel Touching Lives 6'
Speaking in Lagos on Wednesday, 14th July, during a media launch of 'Airtel Touching Lives 6', Chief Executive Officer and Managing Director, Airtel Nigeria, Segun Ogunsanya, said a strong sense of purpose is driving Airtel Nigeria's relentless focus on sustainable initiatives that can positively impact the various communities where it operates in.
According to Ogunsanya, purpose is powerful as it does not just define an individual or an entity, but drives its every action and decision. "A social license is the love, loyalty, friendship and affection you get from the communities where you operate as well as from your different stakeholders.
Airtel is committed to its purpose of empowering and uplifting people and making a positive and lasting impact in the lives of its stakeholders, thereby earning its social license.
"To realize this vision, the Airtel Touching Lives initiative was created to offer relief and hope to the underprivileged and downtrodden and also inspire the strong and the wealthy to support the vulnerable and the poor."
The Airtel CEO also noted that Airtel Touching Lives 6 will continue to focus on the overall philosophy of the programme while taking cognizance of key events such as the global pandemic that has made life difficult for many people.
"In the last 16 months, our lives have dramatically changed with Covid-19 and its many variants and waves. In our approach for Season 6, we will pay attention to Covid-19 but we will also focus on education and other areas and we will not deviate from seeking out indigent and medically challenged persons who desperately need help," he said.
Ogunsanya urged the public to be part of the initiative by nominating projects, persons and communities that require support.
According to him, "the nomination process is simple. Once you nominate an individual or cause, our team will review and assess the situation and determine if a follow-up visit will be required. The public can nominate individuals or projects in their communities by dialling 367 or by sending an SMS to the Shortcode, 367. Also mail can be sent to touchinglives@ng.airtel.com ".
Currently in its 6th Season, Airtel Touching Lives is Airtel Nigeria's flagship corporate philanthropy initiative aimed at providing succor to the underprivileged, hard to reach, vulnerable and disadvantaged in the society.
Airtel Touching Lives takes the format of a reality television show, allowing the public to nominate causes, communities and underprivileged persons/people with special needs. Airtel thereafter evaluates and selects the causes to support and the activities are filmed and broadcasted on terrestrial and satellite television stations with the aim of inspiring other corporate organizations as well as well-meaning individuals to join in supporting the weak across society.
Airtel Touching Lives is about real people, real stories and the real effort of a corporate organization to uplift the needy and underprivileged, emancipating thousands from the shackles of poverty, despair and hopelessness.
Through the programme, Airtel has refurbished an ICT centre for a large community, built modern water borehole systems for large communities, refurbished cancer centers, refurbished a Library for Blind people, rehabilitated an IDP Camp clinic facility, set up small scale trade for underprivileged persons, paid medical bills of underprivileged children and women and flown many persons abroad for treatment, among others.