NCC Open to Innovations, Strategic Collaboration for Human Capital Development – Danbatta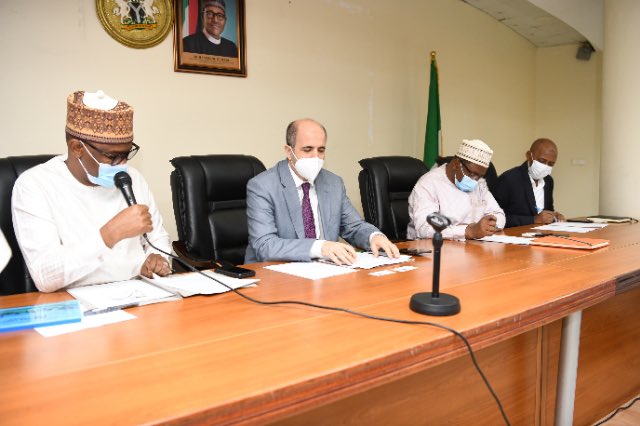 L-R: Director, Human Capital and Administration, Usman Malah; Vice-Chancellor, Nile University, Prof. Osman Aras; Head, Human Capital, NCC, Usman Mamman and Dean, Faculty of Natural and Applied Sciences, Nile University, Prof. Musa Muhammad, during the courtesy visit of the university to the Commission in Abuja.
The Executive Vice Chairman (EVC) of the Nigerian Communications Commission (NCC), Prof. Umar Garba Danbatta, has emphasised that the Commission will always be open to ideas, innovations and meaningful collaboration with strategic institutions for the development of human capacity in Nigeria.
Danbatta stated this while addressing the management of Nile University of Nigeria, when they paid a courtesy visit to the Commission's Head Office in Abuja recently.
The university delegation had requested for the courtesy visit principally to seek areas of collaboration with the Commission towards enhancing knowledge creation in the country.
Speaking during the visit, Director, Human Capital and Administration at NCC, Usman Malah, who represented the EVC, stated that one of the cardinal pillars underpinning the Commission's Strategic Management Plan is strategic partnerships with relevant stakeholders, through mutually-sustainable collaborations.
According to Malah, as different sectors of the nation's economy struggle to overcome the temporary challenges occasioned by the COVID-19 pandemic, the Commission will continue to build the necessary relationships and also institute measures that will enhance the performance of critical stakeholders in different sectors of the Nigerian economy.
"The Commission will remain fully committed to ensuring synergy, through its strategic collaborations with relevant stakeholders, such as the Nile University of Nigeria, in order to ensure that the overall socio-economic development objectives of the Federal Government of Nigeria are met," Malah said.
Earlier, the Vice Chancellor of Nile University, Prof. Osman Aras, who led the delegation, said the institution is seeking public-private partnership and synergy with NCC, as it has done with other government institutions, with a view to enhancing human capital development in the country.
Specifically, Aras said the university will like to sign a Memorandum of Understanding (MoU) with the Commission in future to improve academic curriculum, promote student internship and mentorship, organise joint seminars and workshops, amongst others.
"As a private university with limited resources, we believe we need to work together because without synergy with public-sector institutions and critical stakeholders such as NCC, we would not be able to achieve our goal of producing highly-skilled labour required for Nigeria's rapid economic development," he said.
Responding, Malah affirmed that the University's interest in strategic collaboration with the Commission is laudable and consistent with the vision plan of Prof. Danbatta, pledging to convey their aspiration to the EVC for consideration.
Bento Expands to Ghana, Kenya and Rwanda, Targets 10 More Markets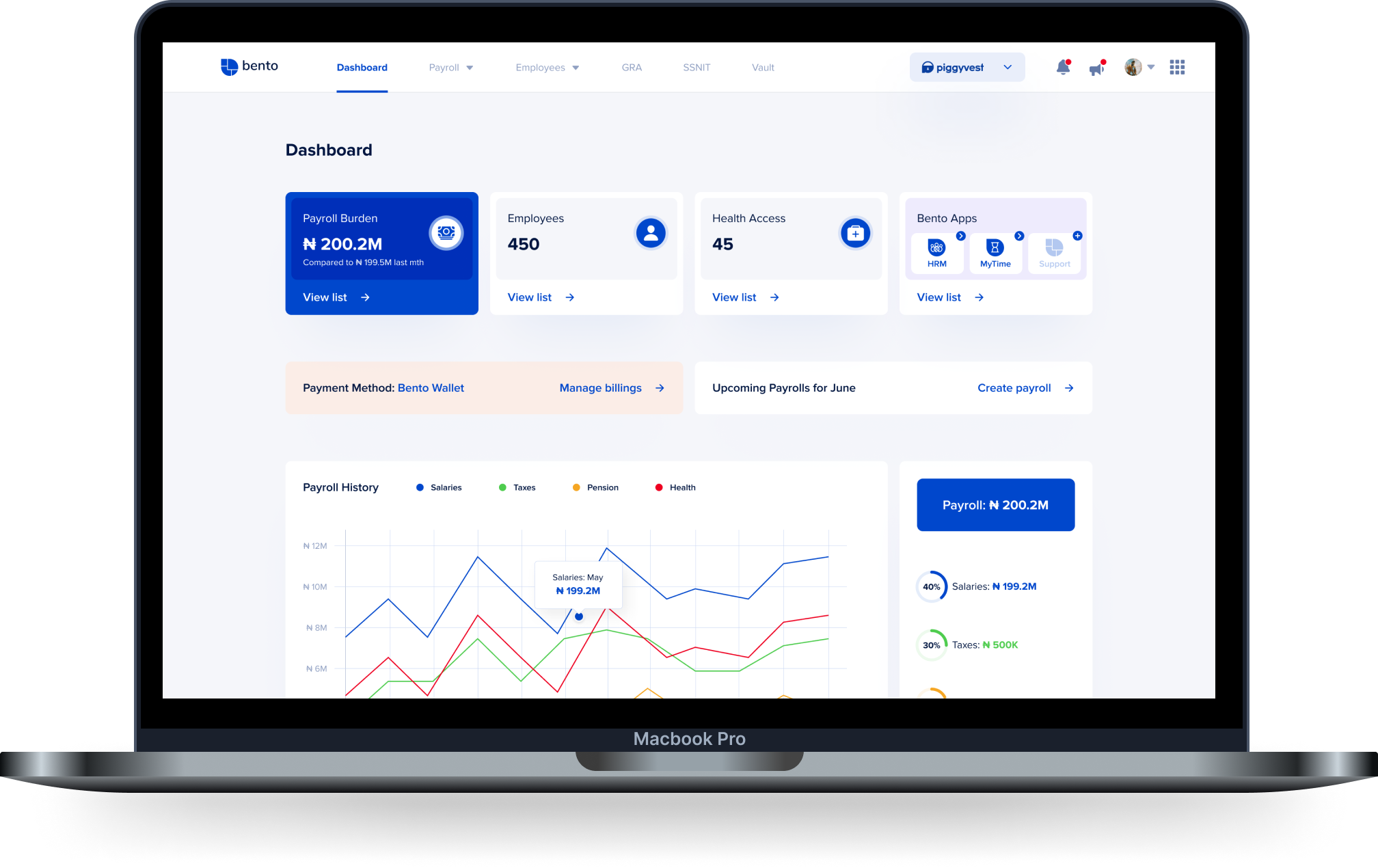 Bento, a pan-African digital payroll and HR Management (HRM) platform, has announced its launch into three new markets, establishing a presence in Ghana, Kenya and Rwanda to grow the company's reach across the continent.
The payroll and HR Management market in Africa is a huge untapped opportunity with over 400 million people in the labour force. African businesses have remained largely analogue up until now, using spreadsheets and bulk upload on bank portals, bank transfers, cheques, and even cash. Bento is bringing African payroll and HRM into the digital age and ensuring that different market participants are communicating and leveraging data to help unlock credit solutions.
Founded in Nigeria in 2019, Bento addresses many of the challenges African businesses face by automating salary payments, tax, pensions and other statutory remittances. Through its cloud-based platform, Bento empowers African businesses and gives them peace of mind by streamlining many of their processes with a single click. For employees, the platform offers access to third-party services such as credit solutions – which include the ability to pay school fees and rent monthly rather than yearly – unemployment insurance, savings, investments and much more, all at no cost to employers.
Having obtained full operating licenses in each market, Bento is building local teams in Ghana, Kenya and Rwanda and will adapt its products for local cultural and financial nuances. In Nigeria, Bento has stood at the forefront of payroll and HRM, serving over 900 active Nigerian businesses across all sectors, including some of the largest Healthcare and Financial Services companies in the country such as Hygeia and Tangerine Africa, as well as many Y Combinator-backed firms including Paystack, Kobo360, Branch, Helium Health, and LORI Systems.
The company is targeting further rapid growth across the continent, and will launch in Egypt, South Africa, Uganda, Tanzania, Angola and Senegal by the end of 2022.
"Seeing so many companies using analogue methods to manage their workforce is simultaneously frustrating and exciting for us. Employers don't have access to locally customised, world-class payroll and HRM tools, and employees can't easily access third-party services to help make life easier," said Ebun Okubanjo, Co-Founder and CEO at Bento. "When you think about it, your salary powers your life, so we're building the operating system that will have a profound impact on the African continent for generations to come."
While solving the missing piece of the B2B payroll and HRM puzzle, Bento is also enabling employees to access credit solutions and other third party products and services. Around 95% of African consumers have never had access to formal credit and rely on informal lenders and savings schemes. To further illustrate this point, in Africa on average 4.5% of people have access to a credit card compared with 65% in the US. Bento's proprietary credit engine, built in partnership with Tarya, Israel's largest P2P lending firm, ensures the company can offer significantly better rates than traditional retail lenders and disburse within minutes rather than days.
"We're starting with payroll and HRM, but moving rapidly towards Salary 2.0, where we redefine the intersection of work and life and transform the way people earn, spend and borrow on the continent," added Chidozie David Okonkwo, Co-Founder and COO at Bento. "Having successfully established product-market fit in Nigeria, one of the most difficult markets to penetrate in Africa, we're excited to roll out across the continent and solve the real problems we know millions of employers and employees face on a daily basis."
UK-based Career Masterclass Enters Nigerian Talent Market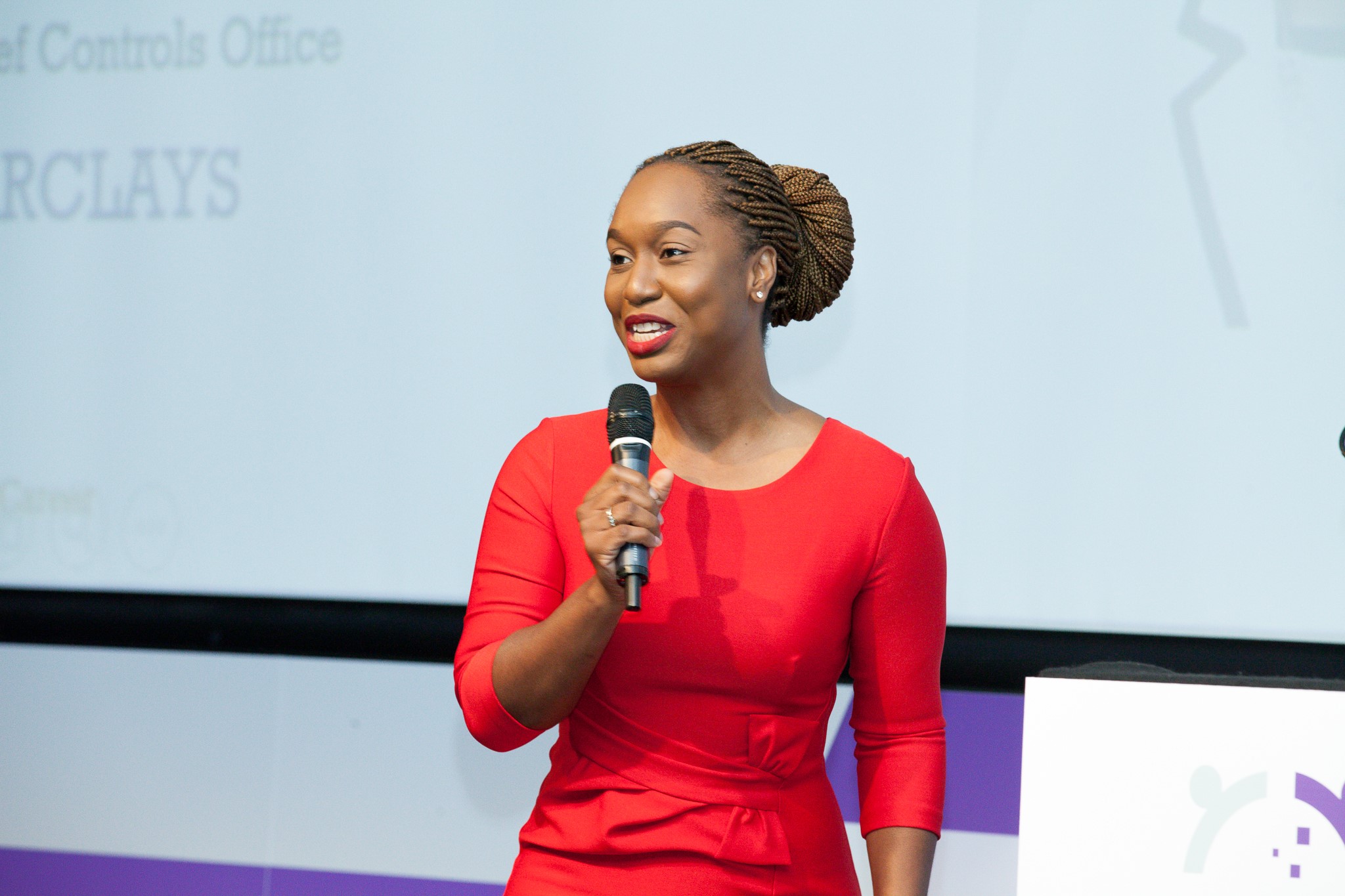 UK based Career Masterclass – which has carved a place for itself in the careers market for democratisation of opportunities – enters the Nigerian market to offer quality career advice and training to established and aspiring professionals.
It has already worked with leading companies including Google Africa and AG Leventis in Nigeria.
Career Masterclass helps create a level playing field within the corporate world by arming middle level professionals with the right tools to help them to break the glass ceiling.
It has worked with leading multinationals including Amazon, Deutsche Bank, Google and Visa in the UK, Nigeria, the US and Canada. Career Masterclass programmes are targeted at both companies and individuals.
The Nigerian entity will offer a range of training programmes and tools including access to masterclasses from leading experts, content and resources and customised talent development programmes. It will also help connect with mentors and offer valuable insight on how to achieve your career goals.
Speaking about opening its office in Nigeria, Bukola Adisa, the founder of Career Masterclass, who hails from Nigeria said, "Nigeria is an important market for us. We are a global platform but most of our users are from the UK, followed by Nigeria and the US. We also have substantial following in Canada and India. Having run career development programmes for leading multinationals in Nigeria and given the amount of interest we garnered, I believe it was time for us to launch our Nigerian entity."
The most popular training programmes in Nigeria are: Cracking the confidence code, the art of negotiation and navigating organisational politics.
Speaking about her passion for democratisation of opportunities in the corporate world, Bukola, who hails from Nigeria, said, "I am both an immigrant and a woman and I have managed to break the glass ceiling to be the highest ranking Black professional in a leading international bank. I can do it and so can others. We, at Career Masterclass, want to share our insight, knowledge and experience so that others, like us, can benefit from it."
Launched as a UK based entity in 2015, Career Masterclass has an international outreach via its global platform. It holds both in-person training sessions for leading organisations and online events. The company has grown from strength to strength and plans to launch its crowdfunding later this month.
2,400 Candidates Apply for One Role as Competition for Jobs in Africa Stiffens-ROAM Africa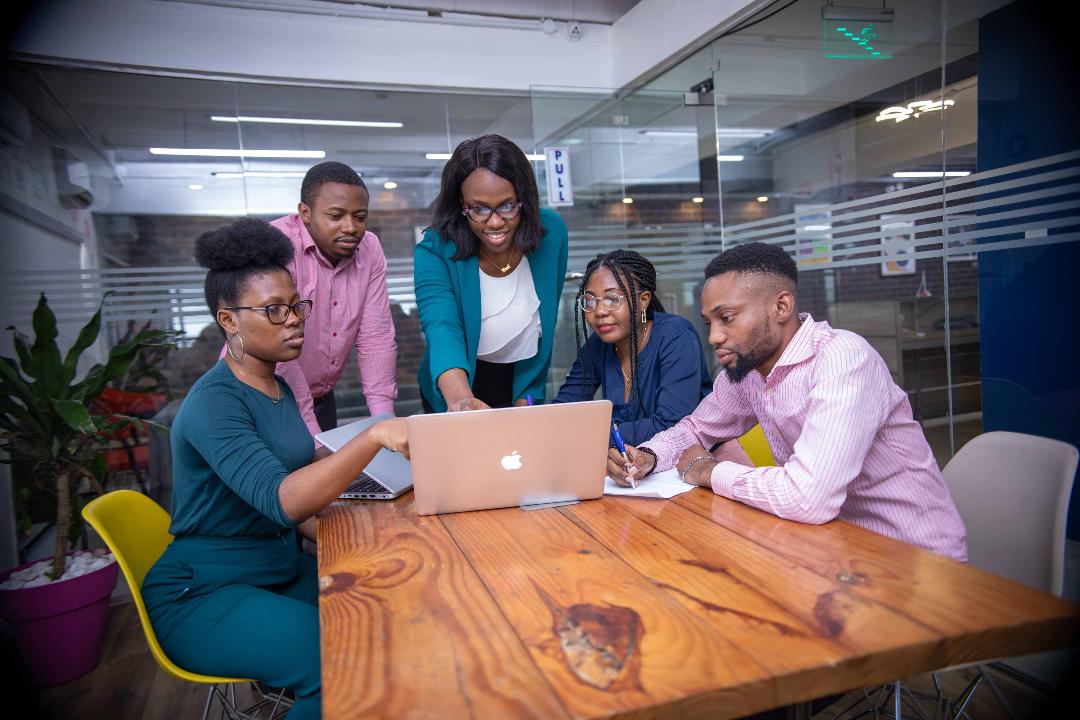 ROAM Africa (Ringier One Africa Media), the leading digital classifieds group in Sub-Saharan Africa, has today released figures that highlight the current state of the jobs market in Africa, with one standard role attracting 2,417 applications.
Analysing 69,511 jobs listings from January 2019 to August 2020 across 5 African countries (Nigeria, Ghana, Kenya, Tanzania and Uganda), ROAM Africa's data sheds more light on the challenges facing both job seekers and employers in the African jobs market.
The standard job listing that attracted 2,417 applications was for a Receptionist/Admin Assistant in Kenya while another listing for call centre agents and team leaders attracted 2,283 applicants.
Similar is observed also for other markets: In Ghana, 2,299 people applied for an Administrative Assistant role and 2,265 people in Tanzania applied for a Sales Representative role. In Nigeria, the highest number of applications for a single role was 2,095 and it was for a Sales Representative role.
According to ROAM Africa's data, Kenya contributed the highest amount of new job listings in 2019 with 33%. Nigeria was in second place with 31% and Uganda was in third place with 17%. However, so far in 2020, Nigeria is leading the way with 40% of new job listings, with Kenya in second place with 28% and Uganda in third place with 13%.
A closer look at ROAM Africa's data reveals that, apart from Nigeria, there was a drop in overall job listings across all job levels during the last months. However, there was an increase in graduate trainee and 'no experience' roles in Nigeria, Tanzania and Ghana from May to July 2020, which offers some hope for new entrants into the jobs market.
Interestingly, recruitment agencies contributed the most roles, with 16% of overall jobs, closely followed by IT and Telecoms with 15% and Advertising media and communications with 12%.
Some candidates have also reported applying for more than 20 jobs a day for multiple months and only getting to the interview stage on a handful of occasions. This is why ROAM Africa's jobs platforms Jobberman (Ghana and Nigeria) and BrighterMonday (Kenya, Uganda and Tanzania) are focused on matching technology.
The company's technology helps employers to identify and score the right candidates faster. Suitable candidates are made visible to prospective employers, and helped across the finish line by providing data driven career development tools and training programmes. Job seekers using the platforms can expect to improve their CV, gain interview tips and sign-up for online training courses designed to bridge the gap between education and employment.
Commenting on the data, Clemens Weitz, CEO of ROAM Africa said, "The high ratio of applications per job listing really highlights how challenging the jobs market is for employers and job seekers. Both employers and job seekers are struggling to connect with the right opportunities and more needs to be done to address this. Employers must rethink their hiring strategies and clearly define what they are looking for, based on data and insights. Job seekers must also invest in personal development that will make it easier for them to stand out in such a crowded and competitive market."
Weitz also added that, "We believe that Africa's greatest asset is its people and their entrepreneurial spirit. With the expected growth in the continent's population, we must begin to put structures in place that will make it easier for African businesses to make the most of this resource."
According to Hilda Kragha, Managing Director of ROAM Africa's Jobs platforms, "With the current state of the jobs market, Africans cannot afford to continue with the antiquated recruitment processes that are commonplace in many organisations. We must prioritise a digital approach to recruitment, which brings transparency to Africa's labour market while connecting people to work opportunities that will improve their livelihood. We must also embrace objectivity in the recruitment process by incorporating innovation that makes it easier to fairly and consistently sort for the best candidates. This will ensure that only qualified candidates are applying for roles and employers get an accurate picture of jobseekers' capabilities. A win-win for both job seekers and employers."
"Our data highlights both the challenge and opportunity that come with the African jobs market. We must address the challenge of rampant unemployment but also embrace the opportunity to transform how recruitment is done. By doing this, we will not only be addressing the current problems but also future-proofing our businesses and organisations for generations to come."