First Bank Loan To Firstmonie Agents Tops N100bn In One Year

One year after it commenced its agent credit scheme, First Bank of Nigeria Limited, said it has given out N100 billion to its 114,000 Firstmonie agents spread across the 772 local government areas in the country.
According to the bank, its agent banking network is part of its drive to increase the level of financial inclusion in the country whilst creating jobs and empowering its customers.
A statement by the bank explained that the agent credit scheme was created by the First Bank to promote and expand the business activities of its foremost agent banking platform, Firstmonie Agents, whilst putting them at an advantage to positively impact their immediate environment.
Firstmonie Agents network which is amongst the bank's many initiatives to expand financial access in the country, have been integral to bridging the financial exclusion gap, providing convenient banking services that are easily accessible, thereby saving time and travel costs for individuals in the suburbs and remote environments that have no access to financial services.
Reiterating First Bank's role in deepening financial inclusion in the country, group executive, e-Business and retail products of the bank, Chuma Ezirim, said: "We are truly excited about the tremendous impact of the agent credit on the performance of our Firstmonie agents nationwide. Since the introduction of the agent credit to support our 'Human ATMs' as we fondly call our Firstmonie agents, they have recorded immense growth in their businesses, at levels they never envisaged in such a short period.
"Our key goal is to continue to deliver financial services to the underserved and unbanked populations, employing modern technology for processing of real time transactions and in doing so, contribute to building capacities and learning new skills in information technology, cash management and relationship management for our FirstMonie agents.
"We encourage our Firstmonie Agents to keep being exemplary in setting the pace to promote financial inclusion as we collectively work towards the continuous growth and development of the national economy."
Olumide Soyombo Launches Pan-African VC Firm, Voltron Capital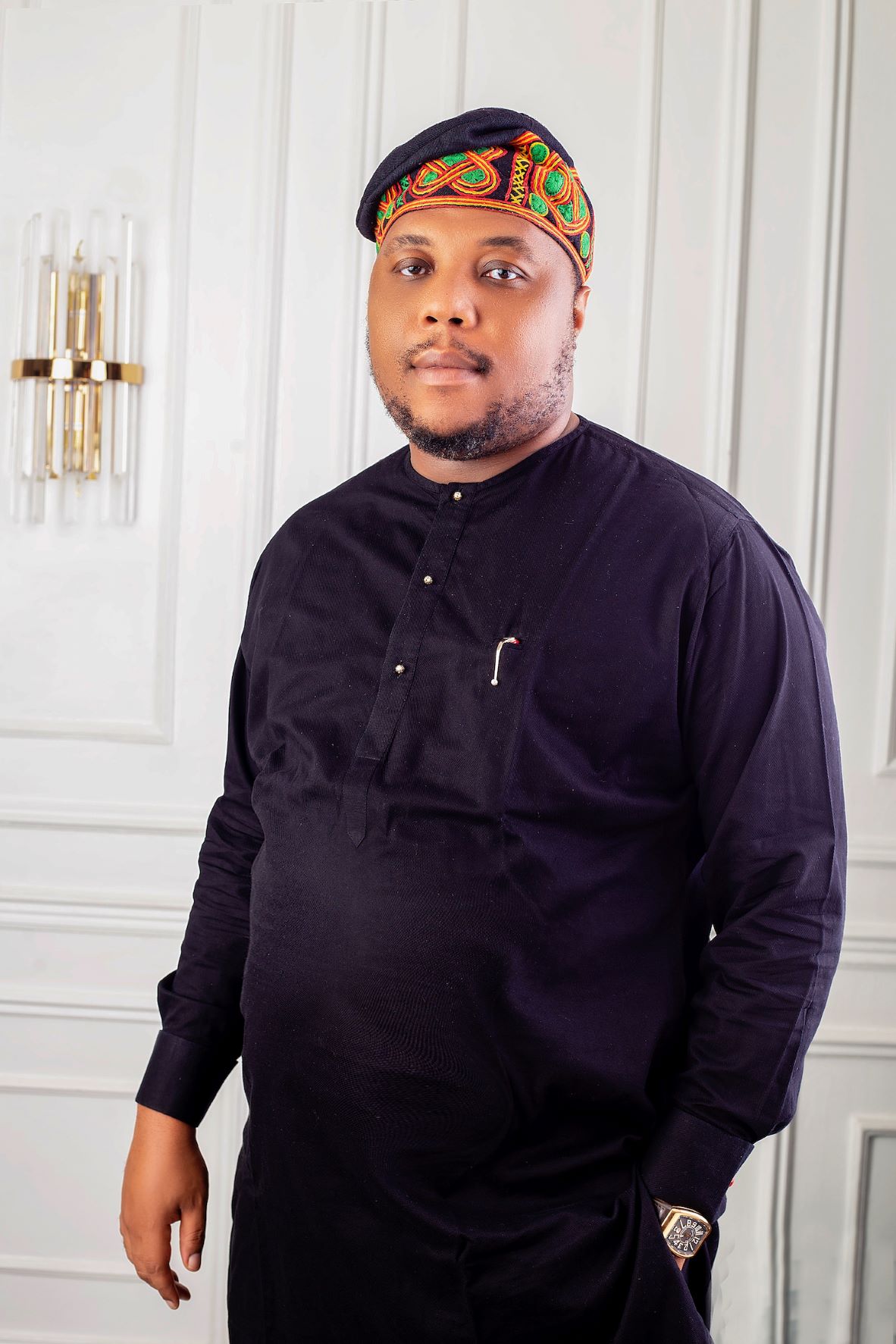 Olumide Soyombo, one of Africa's most prolific and active early-stage investors in tech startups, has today announced the launch of Voltron Capital – a Pan-African pre-seed & seed firm for elite tech founders tackling critical problems in the continent's largest markets. Co-founded alongside Abe Choi, CEO of Simple Dealer, the new firm will deploy capital in up to 30 startups across a range of sectors and marks a major bid to address the severe lack of access to early-stage funding for African tech companies.
With a ticket size of $20,000 – $100,000 per company, Voltron Capital's portfolio will primarily focus on startups in Nigeria, Kenya, South Africa and Northern Africa, and is headed by a founding team with a robust investment track record. In Soyombo, who is also the Co-Founder of LeadPath Nigeria and Bluechip Technologies, the team has over 10 years of experience of early stage investing, with a portfolio of 33 African tech startups including Mono, PiggyVest, Spleet, Migo, TeamApt and Paystack. During his time as an investor, Soyombo's portfolio has raised over $70m, ranging from pre-seed to Series A, and he has also overseen two secondary and one primary exits. Voltron Capital's Co-Founder, Abe Choi, has also invested in 15 tech startups – two of which have been exited and collectively, the founders' existing portfolio spreads across a vast range of sectors including finance, energy, logistics, retail and education.
Speaking on the launch of his new firm, Olumide Soyombo, Co-founder at Voltron Capital, says "Voltron Capital is the beginning of another incredibly exciting journey for Abe and I, but it is also a celebration of the road Africa's entire tech space has travelled to-date."
Soyombo was an early investor in Paystack, the fintech company that exited to Stripe in October 2020. The exit and subsequent liquidity event revealed a maturing in the African tech market, validating early investment decisions. His work in corporate Nigeria has also allowed him to access non-traditional capital for the tech VC ecosystem.
Soyombo continues, "We hold a track record of identifying and supporting some of Africa's most high-growth startups to-date with capital at pre-seed stage and also hold long-established relationships with corporates and regulators, which can make what can often be a difficult path for African startups much smoother. We want the next wave of African tech success stories to not only make an impact on the continent, but to be truly global; through Abe's strategic connections to the USA, we're confident we can provide our portfolio with the best possible opportunities to achieve this through our US and global network. "
Despite total funding for African tech startups passing the $1bn mark last year, according to Briter Bridges, more than half of these deals were attracted by a select group of late-stage startups, leaving numerous early-stage tech firms competing for a limited share of funds. According to the IFC, 82% of African tech startups face major problems in accessing capital with insufficient seed funding and a lack of angel investors, some of the most prominent issues mentioned.
With Africa's internet economy projected to contribute over $180bn by 2025, emerging tech companies are set to play a crucial role in unlocking this value across the continent's key verticals. However, without early-stage funding, many of the startups primed to drive this growth are missing out on vital capital to support their early operations and generate revenue, which is a key requirement for securing later rounds of funding and larger scale. The end result of this could not only impact the immediate lifespans of these businesses, but also result in a major loss in value for Africa's consumers, wider tech ecosystem and ultimately, its economy.
Meet the Innovators: Winners Emerge in the UnionX Innovation Challenge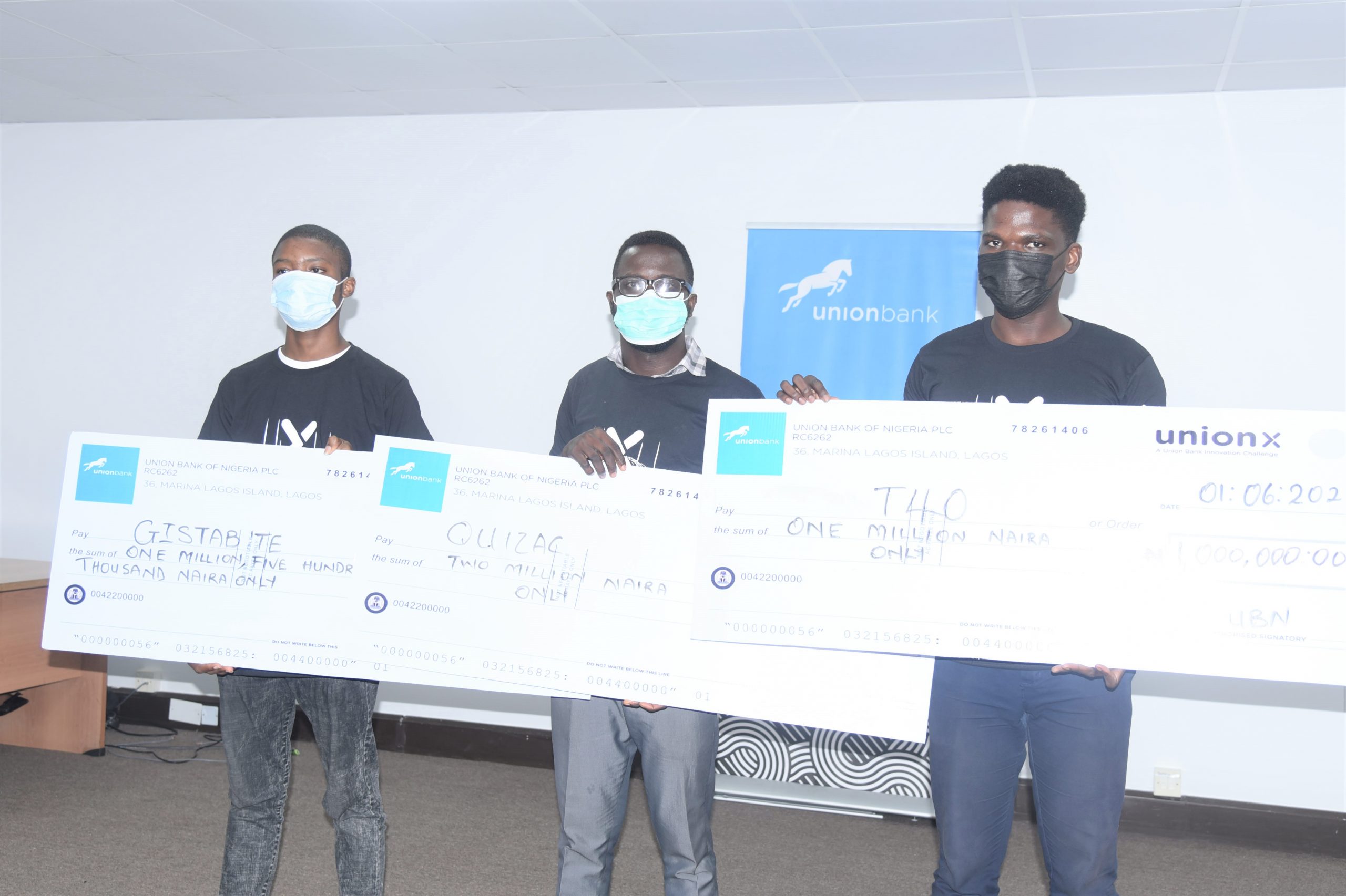 Picture 1: Announcing the UnionX Innovation Challenge Winners L-R ), first prize winner, Tobilola Awogbemi (Quizac; first runners up, Khalid Ismail (Gistabyte); second runner-up, Olakunle Boye & Chibuzor Njoku.
The top three winning solutions in the just concluded UnionX Innovation Challenge have been announced!
Tade Samson and Tobiloba Awogbemi, emerged as first prize winners, receiving N2million for Quizac – their EdTech solution that creates higher learning engagement through gamification and improves retention using Artificial Intelligence.
First runners up, Khalid Ismail and Bobby Ojeh, who built Gistabyte – a social payment app, received N1.5million, while the second runner-up Folarin Olulana received N1million for his initiative T40- A logistics company that has digitalised intercity travel across Africa.
The UnionX Innovation Challenge is Union Bank's Innovation Challenge series focused on discovering, showcasing, and supporting eligible entrepreneurs with innovative, technology-focused Minimum Viable Products (MVPs).
Following the entry period, a cohort of 10 semi-finalists were selected to participate in a boot camp organised by Greenhouse Capital. The cohort was subsequently invited to pitch their innovative models at a virtual Demo.
The panel of judges included Union Bank's Head of Retail Banking and Digital, Lola Cardoso; Head, SME Banking, Chidi Ileka; Chief Credit Officer, Olajumoke Odulaja along with the Co-Founder/CEO of Indicina, Yvonne Johnson; Co-Founder and Chief Investment Officer of Startupbootcamp Africa, Zachariah George.
Speaking at the virtual showcase event, Union Bank Chief Executive Officer (CEO), Emeka Okonkwo said –
"Innovation is a key part of who we are at Union Bank and has been crucial to our growth through the years. We pride ourselves on being a '104-year-old start-up', combining the wisdom of age and the flexibility and agility that innovation brings. I applaud the finalists and winners for their impressive ideas as we look forward to deeper engagement with the larger ecosystem."
While expressing their gratitude to Union Bank, Quizac's co-founders, Tade Samson and Tobiloba Awogbemi said:
"We are excited to have won the UnionX Innovation Challenge. We would like to appreciate Union Bank and GreenHouse Capital for putting together this amazing opportunity not just for Quizac, but also all the 10 finalists. We look forward to working with Union Bank while maintaining our vision to make learning as fun and engaging as possible for every student."
Union Bank also unveiled its 'Developer's Portal' – a one-stop shop where startups can test and validate their ideas in a sandbox environment while progressively moving towards launching their products.
Lola Ekugo, the Head of Digital and Innovation at Union Bank also reiterated Union Bank's commitment to driving agile innovation and collaborating with startups to enrich its bouquet of services for its customers.
For more updates on the UnionX Innovation Challenge, follow Union Bank on Facebook, and Instagram
TeamApt Founders Selected As Endeavor Entrepreneurs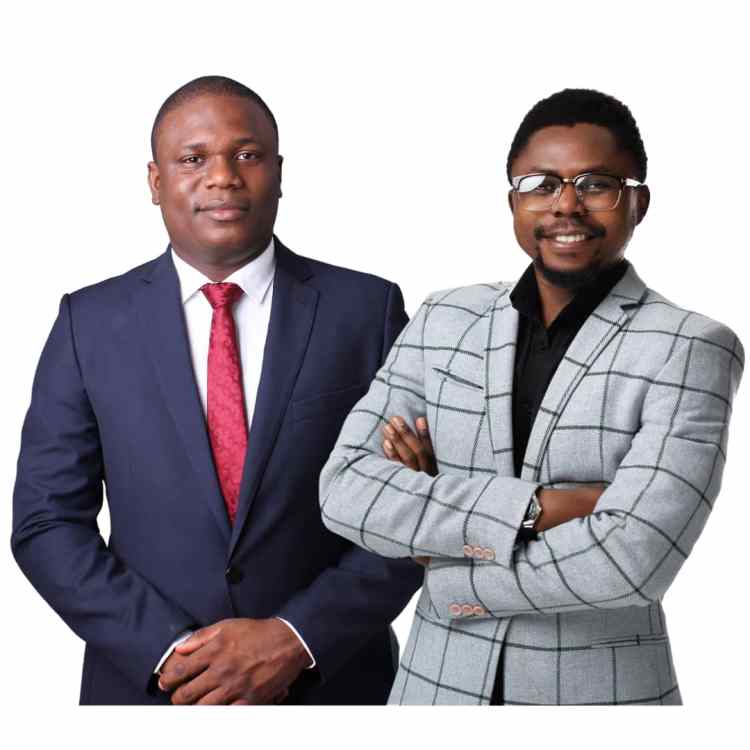 Endeavor has announced Tosin Eniolorunda and Felix Ike, Co-Founders of TeamApt as Endeavor Entrepreneurs at the 16th virtual International Selection Panel (ISP).
The ISP is the culmination of a rigorous multi-step selection process to identify high-impact entrepreneurs.
Head, Marketing and Communications, Endeavor Nigeria, Joy Mabia in a press statement issued on Monday June 28, 2021 said the entrepreneurs demonstrated the potential to leverage Endeavor's resources and mentorship to create large-scale wealth and jobs, while also staying committed to reinvesting their time and money in their local entrepreneurship ecosystems.
TeamApt, founded in 2015 by Tosin Eniolorunda and Felix Ike is part of a group of new mobile money operators that have driven the growth of agency banking in Nigeria by ~20X in the past 2 years. TeamApt's core product, Moniepoint, is an agency banking solution that enables small businesses to provide basic financial services such as deposits, withdrawals, transfers, and bill payments to their customers.
Managing Director & CEO, Endeavor Nigeria, Tosin Faniro-Dada said TeamApt is reinventing banking and financial services to serve currently underserved populations across Africa.
"Tosin and Felix have deep domain expertise, having met and cut their teeth as software developers at Interswitch. They are big thinkers. In a little under 2 years, they have scaled Moniepoint to over 100K agents processing $3.5B monthly. We are excited to support the entrepreneurs as they increase access to financial services across the country and the rest of Africa."
"There are still too many Nigerians excluded from formal financial services but we are at an interesting inflection point where fintech companies are poised to serve this population."
Speaking on their ISP experience and joining the Endeavor network, Tosin Eniolorunda, CEO of TeamApt said, "I believe it's an exciting time to join the Endeavor network of high impact entrepreneurs, and I'm delighted for the opportunity. Felix and I look forward to accessing the abundance of knowledge and expertise within this network as we continue on our mission to close Africa's financial inclusion gap."
At the 16th virtual ISP, panelists from around the world interviewed entrepreneur candidates about their businesses, evaluating them on their potential for high-impact growth, and then deliberated on which candidates should be selected to become Endeavor Entrepreneurs. Once selected, Endeavor Entrepreneurs gain access to an unparalleled global network of business leaders, entrepreneurs, & investors who volunteer to mentor entrepreneurs as they face challenges with rapid growth.
Endeavor Co-Founder and CEO, Linda Rottenberg in her address said; "I'm excited to welcome Tosin and Felix into the Endeavor network. Their business is an exciting venture for the Nigerian market. We look forward to supporting the newest Endeavor Entrepreneurs in their journeys to scale, and welcoming them into our global network."
TeamApt initially built back-end office operations software and white-labelled solutions for banks before launching Moniepoint in 2019. TeamApt is the 12th company selected into the global Endeavor network through the regional affiliated office in Nigeria.