Tony Elumelu Foundation And Google Partner To Support 1m African Entrepreneurs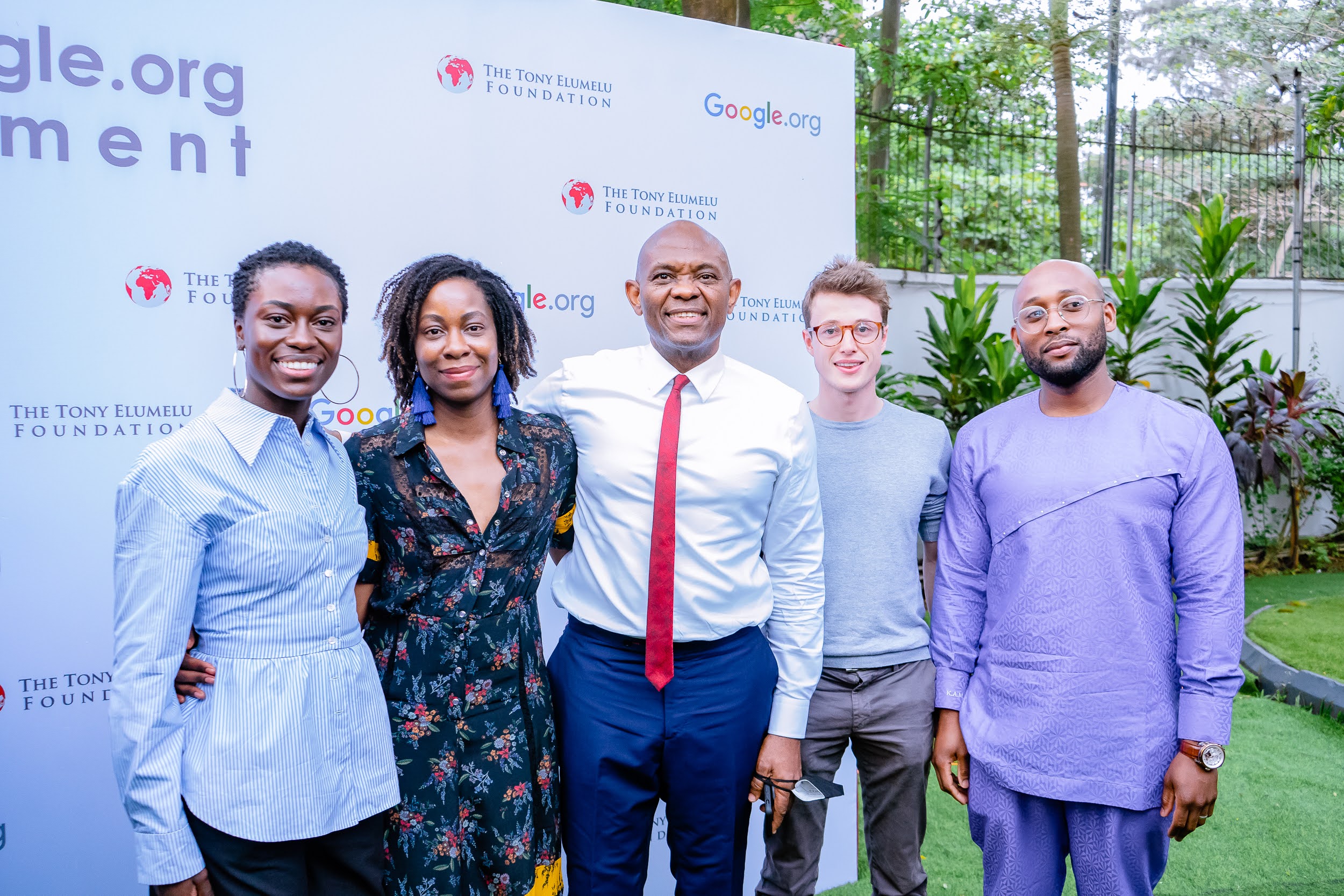 Photo: Tony Elumelu, Founder Tony Elumelu Foundation with Google.org Fellows at the announcement of the Tony Elumelu Foundation and Google.Org Inaugural Fellowship Program
The Tony Elumelu Foundation (TEF) and Google have announced an inaugural Google.org Fellowship to provide one million additional Africans with access to TEFConnect, as part of the Foundation's mission to empower young African entrepreneurs from all 54 African countries.
The announcement was made during an event held at the Foundation's headquarters in Lagos, Nigeria, which was attended by several African political and business leaders.
This partnership is the first Google.org Fellowship in Africa and will offer enormous opportunities for Africa's digital community. Nine full-time Google employees, including software engineers, UI/UX researchers, and policy experts, will work with the Foundation to design and build an upgraded version of the TEFConnect platform. TEFConnect is already home to over one million African entrepreneurs and offers tailored tools, market partnerships, and access to coaches and investors to small businesses.
This fellowship builds on an initial $3 million grant by Google.org to support the 2021 TEF Entrepreneurship Programme by empowering an additional 500 African women to start or scale their businesses. The TEF Entrepreneurship Programme is a US$ 100m initiative that has supported over 15,000 African entrepreneurs and is the largest entrepreneurship programme in Africa.
"Before the TEF Entrepreneurship Programme, my water company suffered financial setbacks. Since TEF support, I have purchased new machines and impacted more communities to ease the water purification process. I deliver clean water to villages that lack access to clean water at an affordable price. The Tony Elumelu Foundation Grant was a dream come true for me and a great opportunity. More people should partake, this is the most innovative platform in Africa," TEF Beneficiary, Lungile Marhungane, CEO, Jesu Puro Water.
The Tony Elumelu Foundation is the leading philanthropy empowering a new generation of African entrepreneurs, catalysing economic growth, driving poverty eradication and job creation across all 54 African countries. TEF has disbursed over $85 million in seed capital to date to support small business growth across Africa.
Speaking, the co-Founder of the Tony Elumelu Foundation, Dr. Awele V. Elumelu said, "We are pleased to continue to share our unique ability and platform to identify, train, mentor and fund young entrepreneurs across Africa with like-minded institutions like Google.org who share in our commitment to empower young African entrepreneurs. It will be exciting to see the ways in which the refreshed TEFConnect platform will continue to provide a space for growth, personal development, and meaningful exchange for African entrepreneurs. In line with our founding philosophy of Africapitalism, we believe that entrepreneurs are the catalyst for the social and economic development of the African continent."
Jen Carter, global head of technology at Google.org, commented on this exciting partnership, "We are delighted to kick off our first Google.org Fellowship in Africa. The Tony Elumelu Foundation does so much to empower African entrepreneurs, and we are thrilled to be able to lend the expertise of Googlers to expand the reach of the TEFConnect platform to an additional 1 million entrepreneurs."
"Google's commitment in Africa has progressed from sponsoring projects to collaborative partnerships with established African organisations like the Tony Elumelu Foundation, dedicated to developing young African talent. As Africa's digital economy grows, African entrepreneurs are in a prime position to establish a powerful digital footprint, and this fellowship is one step closer to transforming the landscape" she added.'
Engaging Government Key To Technology, Innovation Ecosystem – VFD Group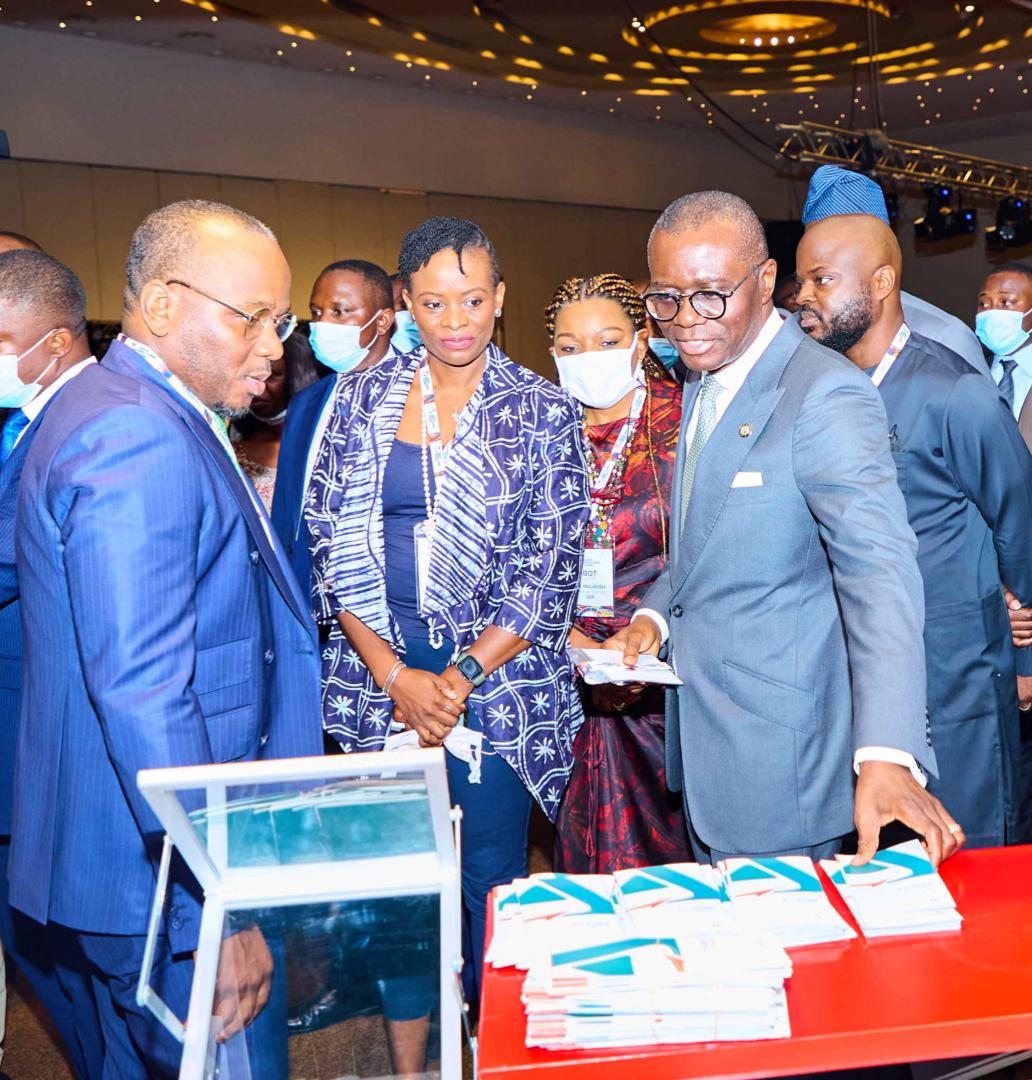 Caption: L-R: Executive Director Governance, Government & Subsidiary Relations VFD Group Plc, Niyi Adenubi; Executive Secretary, LSETF, Teju Abisoye, Board Chairman LSETF; Bola Adesola and Lagos State Governor, Babajide Sanwo-Olu at the VFD Booth at the LSETF Employment Summit in Lagos
The executive director Governance, Government & Subsidiary Relations at VFD Group Plc, Niyi Adenubi said engaging with government is very crucial to technology and innovation ecosystem as many organizations pivot to the technology industry and emerging markets continue to evolve.
Adenubi encouraged top and budding players in the innovation ecosystem to engage the relevant stakeholders for the development of the sector, noted that engaging governments and policy leaders has become imperative for corporate bodies to improve economic growth in Sub-Saharan Africa.
Speaking at a panel session on "the role of regulation & ease of doing business in reviving employment" at the LSETF Employment Summit in Lagos, she stressed that, "Tech enthusiasts need to be in the room where policy conversations are being had to create a macro-environment that empowers diverse communities."
On building these inclusive communities, he added that, "VFD Group is a sector investor and is constantly on the lookout for spirited engagements that can further growth. We believe engagement is important and we are always ready to start these conversations. Fintech has been exciting for us and we see other relevant sectors growing. We are encouraged by the government of Lagos State and we will do more to drive the conversation."
Adenubi's session which was moderated by managing partner, TNP, Baba Alakolaro, had in attendance the special adviser to the President of Nigeria on Ease of Doing Business, Dr. Jumoke Oduwole; CEO, Nigeria Economic Summit Group, Olaoye Jaiyeola; Stears Head of Intelligence, Michael Famoroti and CEO, Happy Coffee, Princess Adeyinka Tekenah.
YouTube Music Supports Two Nigerian Organisations To Boost Creative Eeconomy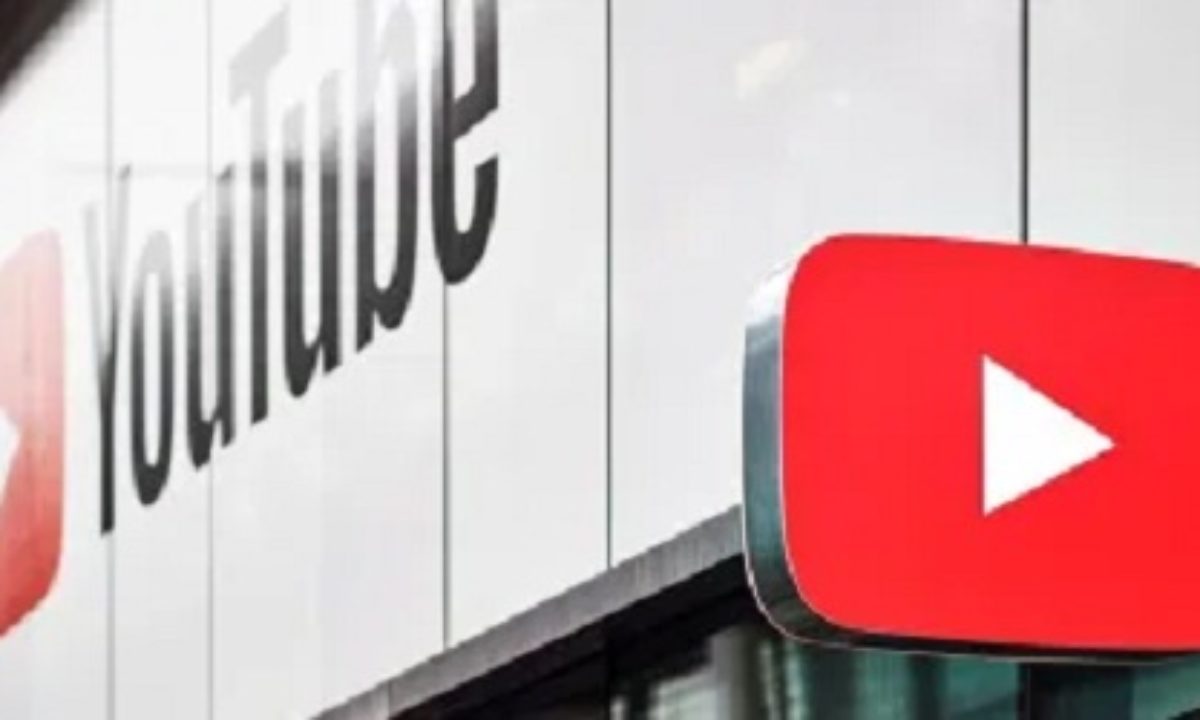 YouTube Music has reaffirmed its commitment to supporting African creative voices by providing financial grants, capacity development training and advisory to two organisations that nurture African creative talent and export it.
In keeping with YouTube Music's commitment to the development of the African creative industry, Briteswan and iManage Africa Entertainment Limited will receive support to help them scale up their initiatives to develop music creatives on the continent.
This move is set to directly impact an estimated 300 participants in initiatives led by these organisations. Briteswan's 'The Audiogirl initiative' seeks to economically empower women by closing the gender gap in the music creation segment
iManage Africa Entertainment Limited's 'Music Business Academy for Africa (MBA)', is an initiative dedicated to developing a more informed and empowered workforce for the African music and entertainment industry.
"We are committed to exporting African music to listeners across the world and want to continue to play our part in the development of the continent's rapidly growing creative economy especially with respect to music", says Addy Awofisayo, YouTube's Head of Music, Sub-Saharan Africa.
Access to the internet has opened up opportunities for African creatives to display their talents to a global audience, thereby, creating jobs that can boost national economies.
In Nigeria, the creative industry accounted for roughly 730 billion Naira (roughly 1.8 billion dollars) of Nigeria's GDP in 2020. Through this initiative, YouTube will enable the two organisations to scale their ongoing work to help more young African creatives learn and acquire the skills to improve their craft, and export their music to the world.
"The rise of Nigeria's globally celebrated musical artists points to the opportunities that exist in the creative economy. As we work towards the post-Covid 19 recovery of industries, it is important to be intentional about unearthing brimming talent and potential among creatives – many of whom are young people. YouTube Music's dedication to the growth of music creatives in the region is well-timed and commended", says Sunday Dare, Nigeria's Minister of Youths and Sports Development.
Over the past few years, YouTube has helped spotlight African culture and export it to global audiences. Burna Boy who won the Grammy's Global Music Award in 2021 with his album, 'Twice as Tall' and who has now been nominated for the third time for a Grammy Award, was spotlighted by YouTube as an Artist on the Rise in 2018.
In 2019, YouTube announced an initiative to support Nigerian artists in collaboration with Mr Eazi's empawa Africa to support 10 local artists to develop their craft. Tems and Bella Shmurda were also selected to be part of YouTube Music's international artist development program, Foundry in 2020 and 2021 respectively.
YouTube Music also deepened investments in Black communitiesby opening applications to the #YouTubeBlack Voices Music Class of 2022, aimed at enabling Black artists, songwriters and producers worldwide to commercialise their work. Eight African artists, songwriters and producers were admitted to the #YouTubeBlack Voices Music Class of 2022.
"We see the support given to the two Nigerian pan-African organizations as a partnership for the advancement of music creatives in Africa who in-turn will be key players that contribute positively towards the emerging creative sector in the continent", Awofisayo concludes.
STEM: Vbank Equips 1,000 Women And Girls With Digital Skills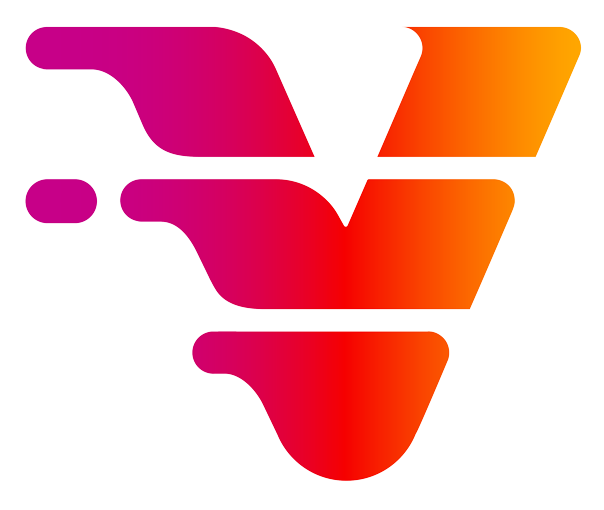 Vbank, Nigeria's foremost digital bank has started training 1000 girls and women spread across rural and urban settlements across Nigeria over a period of three months by upskilling them with varying degrees of digital skills.
The digital bank which announced this at the WIT Nigeria Makeathon, the inaugural programme of Women in Tech Global, Nigeria chapter recently said the skills include deep tech, and soft skills such as Product Design, Product Management, Software development, Data Science and Digital Marketing required within the technology ecosystem.
Speaking on the partnership, managing director, VFD MFB, Gbenga Omolokun, said: ''Our involvement with Women In Tech Global, Nigeria chapter is based on an alignment of our objectives and bridging the gap of women currently working in the Technology space.
"Technology is the future, and there needs to be a deliberate and concerted effort to ensure women are provided with access to the requisite skills to thrive in this future. In 2020, the tech sector only had an estimated 28.8 per cent of women employed. This disproportion can be attributed to several factors, chief amongst them being an overwhelming absence of skilled women and girls in this sector.
"To this end, Vbank has decided to take the lead in ensuring the tech sector in Nigeria adequately accommodates skilled women who will pursue and succeed in the Science, Technology, Engineering and Mathematics (STEM) career. We believe our commitment here will be instrumental in the growth and development of the sector," she added.
Vbank said it is invested in creating and fostering a STEM workforce that includes women and builds on the major contributions that women have made to the sector. By encouraging future talent – and supporting the immense talent we already employ – we can ensure that future generations of all backgrounds are empowered to lead.