Showmax taps Livespot360 for The Real Housewives of Lagos Production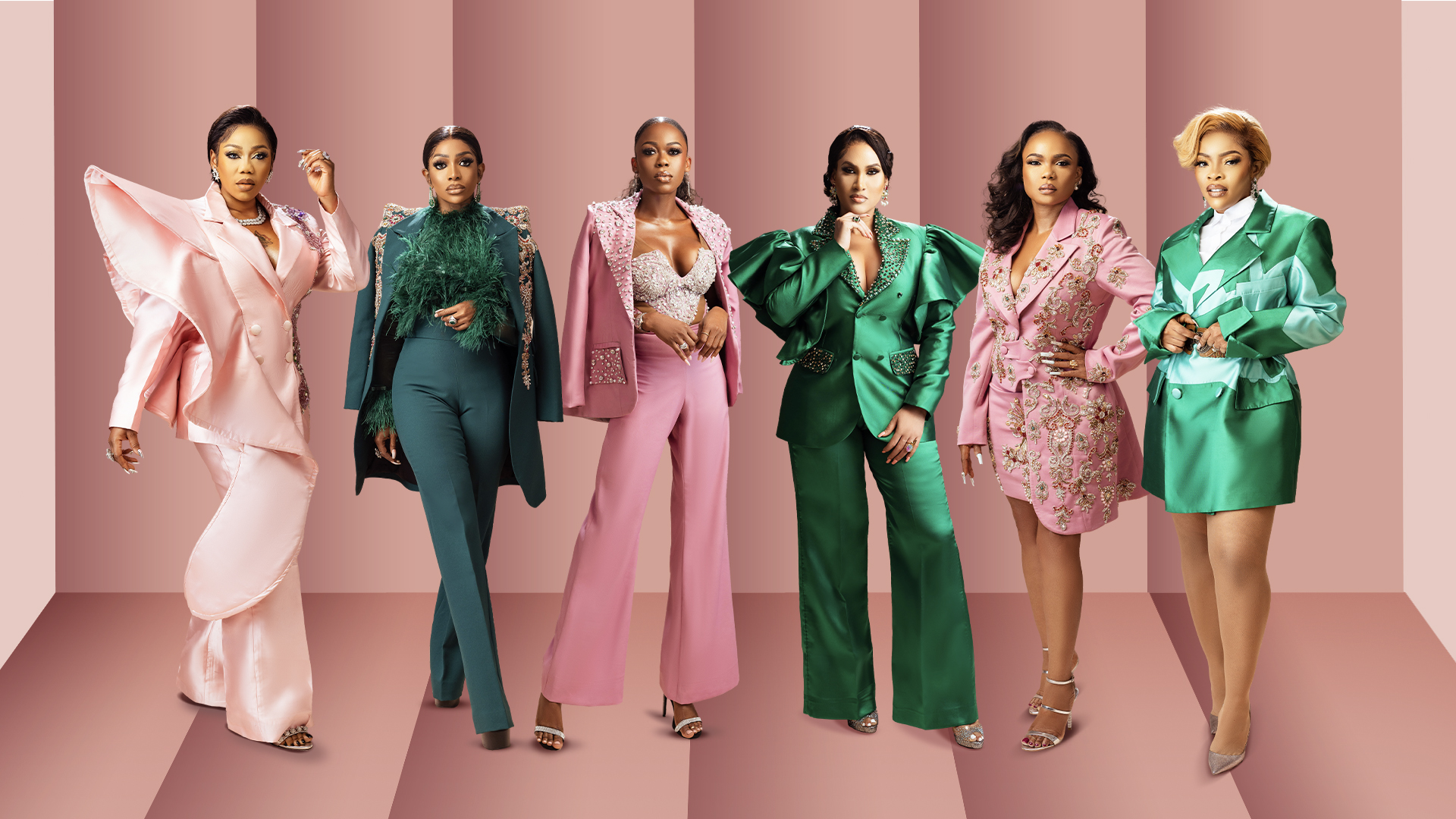 Leading Pan-African streaming service Showmax has teamed up with Nigerian creative solutions company Livespot360 to produce West Africa's first installment of the award-winning franchise – The Real Housewives of Lagos (RHOLagos).
Hugely anticipated by fans of the franchise, RHOLagos becomes the 16th international version of the popular reality show format distributed internationally by NBCUniversal Formats, part of Universal International Studios, a division of Universal Studio Group, and the third to be adapted in Africa.
The Real Housewives of Lagos is being produced by Livespot360, the creative force behind some of Nigeria's biggest concerts and festivals in the last decade.
Livespot360 pulled off the renowned concert series 'Love Like A Movie' featuring Kelly Rowland, Ciara and Kim Kardashian; the highly acclaimed 'The Falz Experience'; and Cardi B's unforgettable showpiece at Livespot X Festival in Lagos and Accra.
Showmax said it is working with Livespot360 to provide a world-class production for the show as part of its commitment to supporting local talent and creatives.
"From the start, we were deliberate about making sure that this show was made in Lagos by Lagosians and Livespot360 was the perfect production partner. Over the years, they've shown a deep understanding of the city and what makes it tick through their world-class concerts and festivals. Partnering with them on this project was an easy decision," says Candice Fangueiro, Head of Content at Showmax.
"RHOLagos further reiterates our standing as an African brand focused on telling our stories through partnerships and collaborations with local talent and creatives. This is definitely a progressive step to more local collaborations and staying true to our commitment to supporting Nigerian talent."
A report released in 2020 by Accenture, a top accounting and consulting firm, estimated that Showmax's parent company MultiChoice Nigeria had spent over $428 million between 2015 and 2019 in developing Nigeria's creative talent.
The Chief Creative Director of Livespot360, Darey Art-Alade, who coordinates and produces some of the biggest annual entertainment shows in Nigeria like The Voice Nigeria and Livespot X Festival, among others, said producing RHOLagos is a unique opportunity that has enabled Livespot360 to provide opportunities for the entire creative value chain as individuals can showcase their skills and talents by providing specific services on the show.
"We've always known that we need more diversity in the entertainment properties and formats produced here in Nigeria, and RHOLagos is a great starting point," Darey said.
"We believe that Showmax is an innovative African brand that understands what the consumers in this market yearn for and the team at Showmax are willing to take calculated risks with their content properties. We are aligned with their mission and can complement their work through our production execution. It was a no-brainer to work with them, and it's been a pleasure thus far."
Showmax announced recently that RHOLagos will cast Nollywood actress Iyabo Ojo, a divorced mother of two; celebrity stylist and CEO of Tiannah's Place Empire, Toyin Lawani-Adebayo; and PR expert and chief executive director at Six Sixteen Agency, Mariam Timmer.
Others include Carolyna Hutchings, the CEO of Hutchings Limited, a real estate, oil and gas, and agriculture company; Laura Ikeji, a social media influencer and entrepreneur; and Chioma Ikokwu, a lawyer and CEO of luxury hair brand Good Hair Ltd.
Since the announcement, the highly-anticipated show has enjoyed rave reviews from fans as they list their expectations. RHOLagos follows in the footsteps of earlier Showmax Originals like I Am LAYCON, Ghana Jollof with Basketmouth, and BBNaija: The Buzz hosted by Toke Makinwa.
The reality show will debut exclusively on Showmax in more than 40 African countries from April 8, 2022, with new episodes every Friday. It will give fans a view into the opulent lives of six of the most glamorous women in Lagos, Nigeria.
Darey said a lot of dynamism comes with the show, and "viewers and all fans of RHOL, old and new, can expect real-life moments – the good, bad, the dramatic and sometimes the ugly parts of each cast member's life. This is reality tv at its very best!"
Global Internet Cost Rose In 2021-Study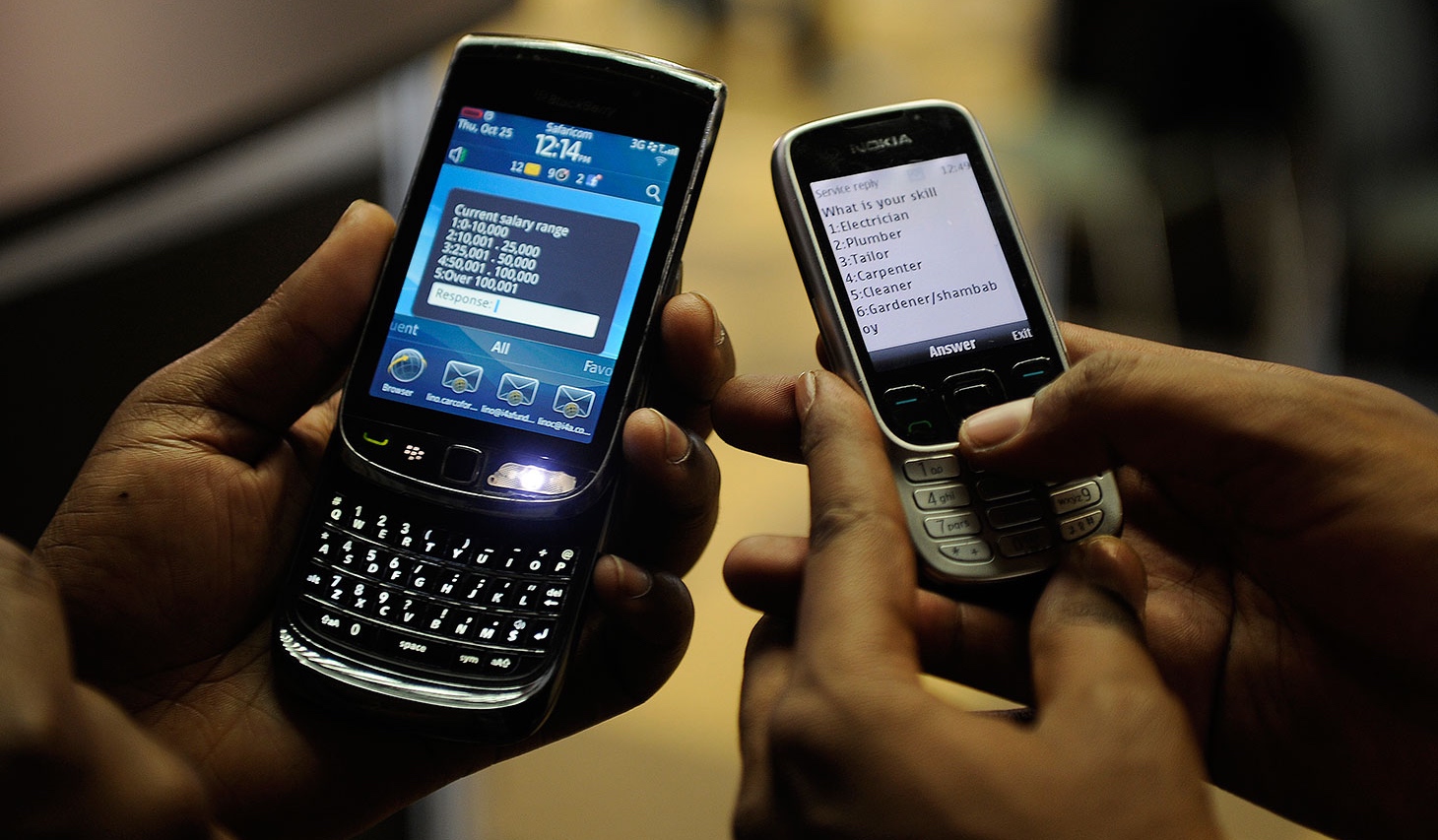 Internet connectivity became less affordable around the world in 2021, according to the latest statistical analysis by the International Telecommunication Union (ITU) and the Alliance for Affordable Internet (A4AI).

The share of people's incomes spent on fixed broadband and mobile Internet services increased globally last year, in parallel with upticks in demand and usage compared to 2020, reveals an ITU-A4AI policy brief​, The affordability of ICT services 2021.

Relative prices of fixed broadband services climbed to 3.5 per cent of gross national income (GNI) per capita globally in 2021, up from 2.9 per cent in 2020. The relative prices of mobile broadband services around the world also edged up to 2 per cent of GNI per capita, from 1.9 per cent a year earlier.

Yet people have sacrificed other goods and services to maintain reliable Internet access during the COVID-19 pandemic. Those who can have largely stayed connected, even at relatively higher prices.

"Broadband services have ceased to be a mere luxury," said ITU Secretary-General Houlin Zhao. "They are a necessity for communication, teleworking, online education, and other essential services. Still, we must urgently address the issue of affordability if we hope to achieve our goal of universal and meaningful connectivity."

At the regional level, users in Africa paid more than three times the global median price for mobile broadband services, and over five times the global median for fixed broadband.

"The affordability gap for Internet access between those living in low- and middle-income countries and those living in high income countries is inexcusably high," said Sonia Jorge, Executive Director of A4AI. "Moreover, people in rural areas, and women everywhere, are disproportionately affected. A continued failure to address this worsens the situation for those who need help the most. The public and private sectors must work together to connect humanity with affordable and meaningful access."
Tiwa Savage, Destiny Etiko, TB Joshua, Obi Cubana Top 2021 Google Trending Searches in Nigeria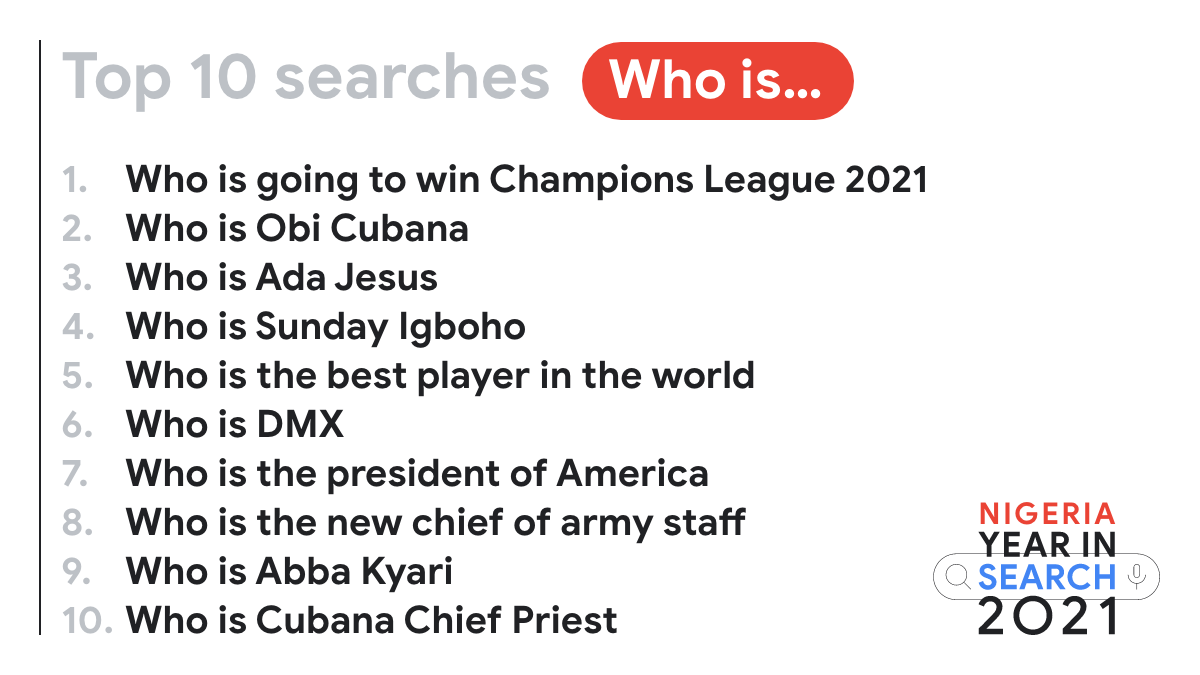 Google has announced the results of its 2021 Year in Search, showing the most searched terms, topics and questions by Nigerians in the year 2021. Google's 2021 Year in Search compiles the moments, people, topics, events, and places that capture the world's attention each year.
As the pandemic entered its second year, Nigerians used the internet to search for answers and information that revealed their interest in topics related to music, movies, TV shows, sports, food, celebrity personalities, pop culture and lifestyle. Top search topics like 'Paralympics', 'Euro 2020' , 'EPL' , 'Chelsea F.C.' and 'Champions league' were reflective of the country's uncompromising love for sport.
Tiwa Savage, Destiny Etiko and Romelu Lukaku topped their respective categories, revealing Nigerians' love for top entertainment personalities and athletes. Squid Game, the Korean TV series that enthralled the world, topped the category of trending movies and series.
From questions like 'How to check JAMB result 2021?', to search terms like 'Alcohol lyrics', 'TB Joshua' and 'Pornstar martini cocktail recipe', Nigerians used Search to make sense of their world this year.
Here are the trending searches in 2021:
Top 10 trending searches
Paralympics
Euro 2020
Olympic Games Tokyo 2020
TB Joshua
La Liga
EPL
Champions league
Tiwa Savage
Obi Cubana
Sound Sultan
Top trending people
Tiwa Savage
Obi Cubana
Sunday Igboho
Romelu Lukaku
Nnamdi Kanu
Elon Musk
Baba Ijesha
Omah Lay
Raphael Varane
Fabrizio Romano
Top trending musicians
Tiwa Savage
Omah Lay
Lil Nas X
Ruger
Ayra Starr
Buju
Bobby Shmurda
Seyi Shay
Chidinma Ekile
Naira Marley
Top lyrics
Alcohol lyrics
Bloody Samaritan lyrics
My Baby Bad My Baby Good lyrics
Peru lyrics
Ruger Bounce lyrics
Infinity lyrics
Cash App lyrics
Jowo lyrics
Big Thug Boys lyrics
Feeling lyrics
Top trending athletes
Romelu Lukaku
Raphael Varane
Christian Eriksen
Ben White
Earling Haaland
Xavi
Saul Niguez
Thomas Tuchel
Naomi Osaka
Jules Koundé
Top Nollywood Actors
Destiny Etiko
Zubby Michael
Pere
Tonto Dikeh
Iyabo Ojo
Olu Jacobs
Nafisa Abdullahi
Jim Iyke
Nancy Isime
Alex Ekubo
Top EPL teams
Chelsea F.C.
Manchester City F.C.
Tottenham Hotspur F.C.
Leicester City F.C.
Everton F.C.
West Ham United F.C.
Aston Villa F.C.
Newcastle United F.C.
Southampton F.C.
Leeds United
Top recipe
Pornstar martini cocktail recipe
Pancake recipe
Chocolate cake recipe
Puff puff recipe
Fried rice recipe
Egusi soup recipe
Oha soup recipe
Vanilla cake recipe
Ogbono soup recipe
Chinchin recipe
Trending Top devices
iPhone 13
Infinix Note 10
Infinix Hot 10
iPhone 12 pro max
iPhone 13 pro max
Tecno Camon 17
Samsung A12
Infinix Note 8
Infinix smart 5
Tecno spark 7
Trending 2021 loss
TB Joshua
Sound Sultan
Ada Jesus
DMX
Femi Osibona
Dare Adeboye
Rachel Oniga
Prince Philip
Yinka Odumakin
Sani Dangote
Trending movies and series
Squid Game
Coming to America 2
Sex Life movie
Black Widow
Red Notice
Mortal Kombat
Army Of The Dead
Eternals
Shang Chi
The Harder They Fall
Trending 2021 Songs
Naira Marley – Coming
Ayra Starr – Bloody Samaritan
Omah Lay – Understand
Naira Marley – Koleyewon
Kizz Daniel – Lie
Ladipoe feat. Buju – Feeling
Ruger – Bounce
Davido – Jowo
Wizkid – Essence (Remix) ft. Justin Bieber
Joeboy – Alcohol
Trending "Who is" general
Who is going to win Champions League 2021?
Who is Obi Cubana?
Who is Ada Jesus?
Who is Sunday Igboho?
Who is the best player in the world?
Who is DMX?
Who is the President of America?
Who is the new chief of army staff?
Who is Abba Kyari?
Who is Cubana Chief Priest?
Trending "How to" general
How to check JAMB result 2021?
How to pack a parcel?
How to open pdf file?
How to open mp3 file?
How to open apk file?
How to check NECO result?
How to register NIN online?
How to vote on BBnaija 2021?
How to reprint JAMB slip?
How to track a package?
Trending "Where is" general
Where is Sunday Igboho now?
Where is White Money from?
Where is Burna Boy from?
Where is Nnamdi Kanu today?
Where is my location?
Where is Maldives located?
Where is Cuba located?
Where is Gaza?
Where is Michigan located?
Where can I download movies?
2.9bn People Still Without Internet Access- ITU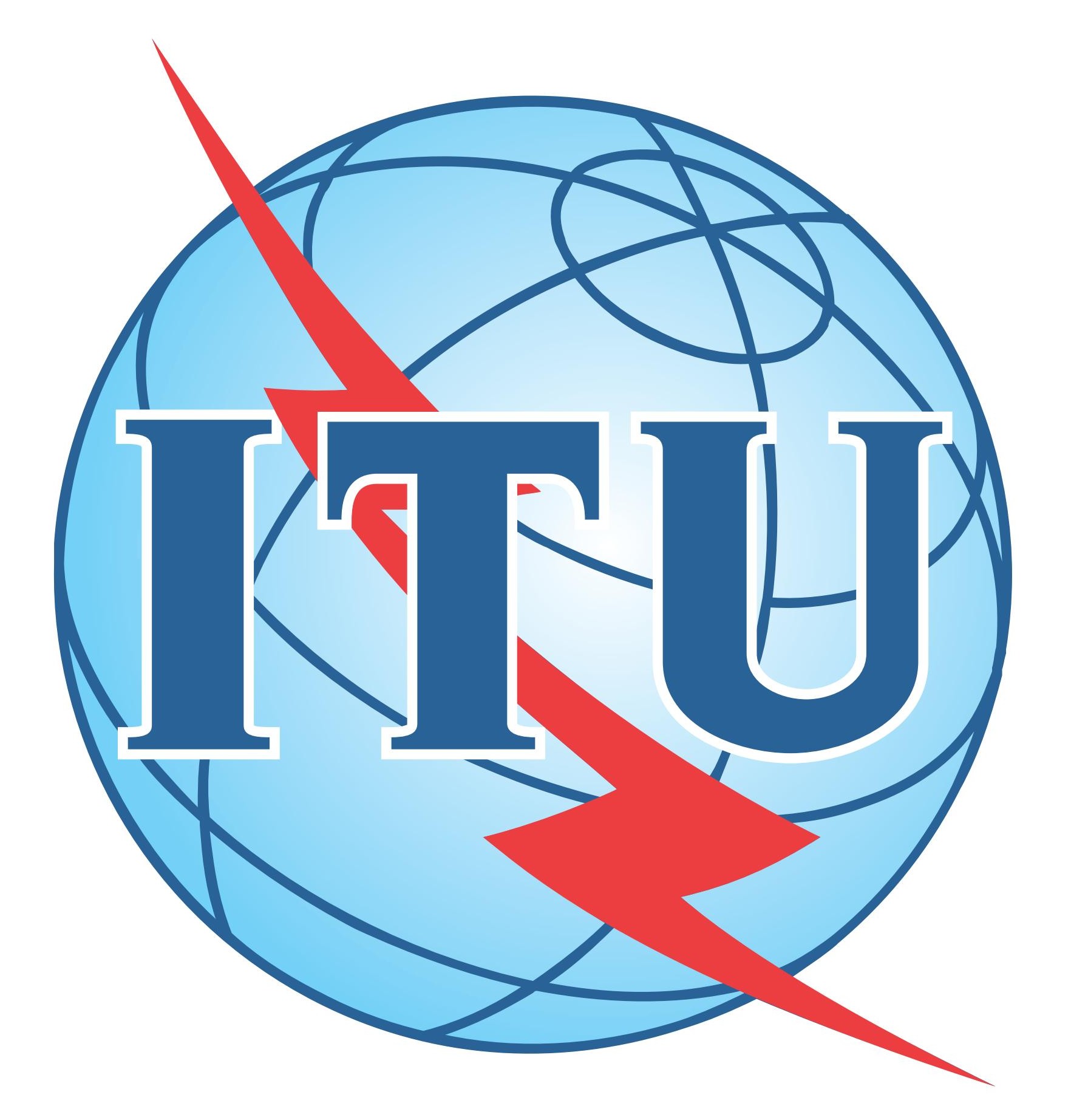 An estimated 37 per cent of the world's population – or 2.9 billion people – have still never used the Internet according to new data from the International Telecommunication Union (ITU), the United Nations specialized agency for information and communication technologies (ICTs).
The report also reveals strong global growth in Internet use, with the estimated number of people who have used the Internet surging to 4.9 billion in 2021, from an estimated 4.1 billion in 2019. This comes as good news for global development.
Of the 2.9 billion still offline, an estimated 96 per cent live in developing countries. And even among the 4.9 billion counted as 'Internet users', many hundreds of millions may only get the chance to go online infrequently, via shared devices, or using connectivity speeds that markedly limit the usefulness of their connection.

The secretary general of ITU, Houlin Zhao said, "While almost two-thirds of the world's population is now online, there is a lot more to do to get everyone connected to the Internet. ITU will work with all parties to make sure that the building blocks are in place to connect the remaining 2.9 billion. We are determined to ensure no one will be left behind."

The unusually sharp rise in the number of people online suggests that measures taken during the pandemic – such as widespread lockdowns and school closures, combined with people's need for access to news, government services, health updates, e-commerce and online banking – contributed to a 'COVID connectivity boost' that has brought an estimated 782 million additional people online since 2019, an increase of 17 per cent.

The 2021 edition of Facts and Figures, ITU's annual overview of the state of digital connectivity worldwide, shows the number of Internet users globally growing by more than 10 per cent in the first year of the pandemic – by far the largest annual increase in a decade.

Strong growth since 2019 was largely driven by increases in developing countries, where Internet penetration climbed more than 13 per cent.In the 46 UN-designated Least Developed Countries (LDCs), the average increase exceeded 20 per cent.

"These statistics show great progress towards ITU's mission to connect the world," said Doreen Bogdan-Martin, Director of ITU's Telecommunication Development Bureau, which oversees ITU's data and analytics work. "But a vast 'connectivity chasm' remains in the LDCs, where almost three quarters of people have never connected to the Internet. Women in LDCs are particularly marginalized, with roughly four out of every five still offline."

Many of these 'digitally excluded' face formidable challenges including poverty, illiteracy, limited access to electricity, and lack of digital skills and awareness.

"Digital solutions would be needed to re-energize sustainable development and help put countries back on track to meet the UN Sustainable Development Goals (SDGs) for 2030," Bogdan-Martin added.

"Unfortunately, the communities identified in the 2030 Agenda as most at risk of being left behind are the very same communities now being digitally left behind."