NCC Urges Nigerian Youths to be Responsible with Internet Usage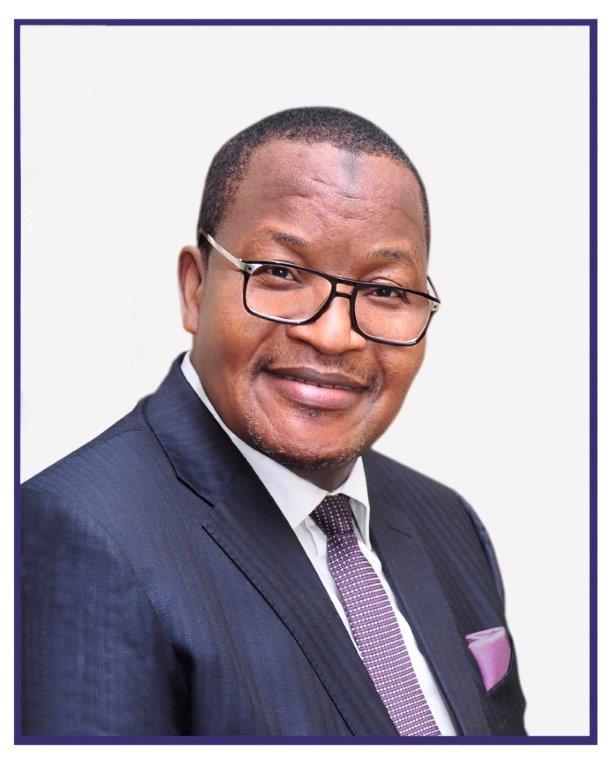 Donates 100 Mattresses to NYSC Orientation Camp
The Nigerian Communications Commission (NCC) has urged Nigerian youths to leverage Internet/broadband access to unleash their potentials for innovation and creativity, as well as their quest for job opportunities and skills acquisition.
The Executive Vice Chairman (EVC) of the Commission, Prof. Umar Garba Danbatta, made the call during the presentation of 100 pieces of mattresses to the Federal Capital Territory's Permanent Orientation Camp of the National Youth Service Corps (NYSC), Kubwa, Abuja recently.
The presentation of the mattresses was in demonstration of the Commission's solidarity and corporate social responsibility (CSR) to support the replacement of some of the items carted away from the camp by hoodlums during the EndSARS protests of October 27, 2020.
Speaking on behalf of Danbatta during the presentation, NCC's Director, Public Affairs, Dr. Ikechukwu Adinde, said the youths play a great role in nation building as they contribute to national development by bringing about social reforms, noting that the NCC will always support the course of the youth in the country.
Adinde said the Commission, has various youth initiatives and programmes aimed at making them self-reliant while enhancing their contributions to the economy.
He, therefore, charged the corps members to use Internet services for gainful and profitable activities, while also advising them to refrain from using their access to telecoms services for irresponsible and nefarious activities, which could land them in trouble.
"Access to telecommunication services, especially the Internet, plays a key role in job creation for the youths and ultimately for accelerating economic development. It is critical to the overall socio-economic well-being of every economy and the youth have a greater role to play, as agents of social change, in using the Internet for positive ventures," he said.
He also charged the large gathering of corps members, who attended the presentation ceremony, to take advantage of the various consumer-centric initiatives which the Commission has emplaced to protect and empower them as active users of telecoms services.
These include the NCC's toll-free number 622 for consumer complaints resolution, the NCC Do-No-Disturb 2442 Short Code for dealing with unsolicited text messages, the 112 National Emergency Number managed by the Commission's Emergency Communications Centres (ECC) located across the country.
Meanwhile, NYSC FCT Coordinator, Abdul Suleman, expressed appreciation for the solidary and support shown by the NCC to the NYSC family, especially regarding the welfare of corps members deployed to the Federal capital for the mandatory one year service to the nation.
"I am happy to receive 100 mattresses donated by the NCC, under the leadership of Prof. Umar Garba Danbatta, the Executive Vice Chairman/CEO, to alleviate the pains inflicted by the miscreants who vandalized the camp. The generosity of the NCC is coming at a time it is most needed, especially with the orientation camp in session."
"On behalf of the Director-General, Management, Staff and Corps members, I wholeheartedly express our profound gratitude to the NCC for the magnanimous gesture and for investing in the Nigerian youths," Suleman said.
At the presentation ceremony, the Commission created a lot of fun and excitement for the corps members through the 'fast-finger' game where airtime of different network operators were picked up freely by the corps members. Smart phones were also given out to lucky winners of the raffle draw organized by the Commission.
ALAT by Wema Targets Young Nigerians With Wealth Management Talk Series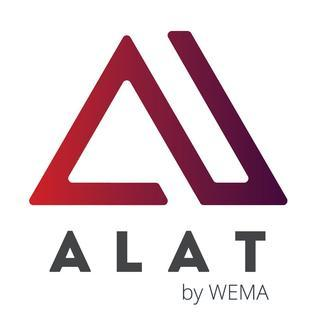 Nigeria's leading digital bank, ALAT by Wema, on Thursday, July 15, 2021 hosted the first edition of its Talk Series. The session which was held on the social networking application Clubhouse was themed, "Wealth Creation and Wealth Management for Nigerians Under 30."
The session was moderated by personal finance guru, Tosin Olaseinde with the Chief Digital Officer Of Wema Bank, Olusegun Adeniyi, and Popular Nigerian Vlogger, Sisi Yemmie as speakers.
The ALAT Talk Series is one of the many ways the bank is showing support for young Nigerians across the country – and at this first session, they provided an opportunity to discuss key issues such as money and finance, as well as business management, and entrepreneurship.
For Tosin, her foray into the promotion of financial literacy began when she kept getting broke despite earning a considerable wage. Yemisi Odusanya, popularly known as Sisi Yemmie on the other hand was able to monetise her skills and things she loves doing. Now, she is a renowned vlogger making money from her vlogs, meal plans, and recipes.
On his part, Olusegun Adeniyi shed more light on the role of the fintech industry in empowering young Nigerians. He also elaborated on ALAT by Wema's role in supporting young Nigerians through various youth-focused initiatives. ALAT and Wema have jointly provided advisory services for small and medium scale enterprises through loans and other business support initiatives. "ALAT is truly with its customers all the way. Recently, we opened an SME school to aid the growth of SMEs in the ecosystem. We have our customers and the youths at heart and we will further support them in our capacity."
Funmilayo Falola, Head, Marketing, Corporate Communications and Investor Relations, Wema Bank commented on the bank's decision to Launch a talk series targeted at young Nigerians. "As part of our commitment to continually support young Nigerians in their endeavours, we have decided to host this Clubhouse session. As a brand, ALAT by Wema strongly believes in the need to invest in young people who will in due time become seasoned professionals and experts in their respective fields. We are supporting them with capacity building initiatives, and programmes that will empower them," she said.
According to a report published by the National Bureau of Statistics, 33.3% of Nigerians are unemployed. This means that about one-third of Nigerian youths are unable to find jobs. Sessions like the ALAT Talk series are essential to give young Nigerians a safe platform to discuss entrepreneurship, money management, and other issues that can help in bridging the employment gap and fostering innovative ideas to ease the heavy financial burden on Nigerians.
Airtel Reaffirms Commitment to Building Communities as 'Touching Lives Season 6'Kicks Off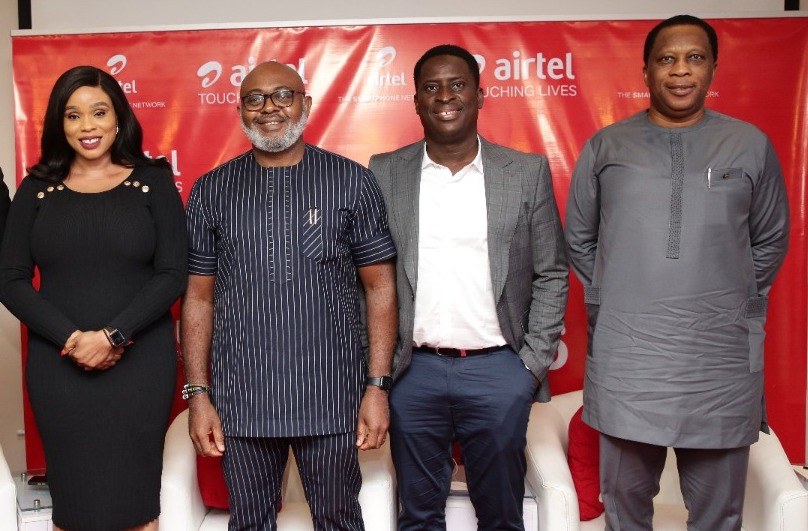 Photo: L-R: Chioma Okolie, Lead, Corporate Social Responsibility; Emeka Oparah, Vice President, Corporate Communications & Corporate Social Responsibility; Erhumu Bayagbon, Head, Public Relations and Olusina Adegoke, Regional Operations Director, Lagos Region all of Airtel Nigeria at the Airtel Touching Lives Season 6 Media Launch in Lagos.
Leading telecommunications services provider, Airtel Nigeria, has reaffirmed its commitment to empowering and uplifting vulnerable people, building communities and creating value for all its stakeholders as it announces the commencement of the sixth edition of its flagship CSR intervention, 'Airtel Touching Lives 6'
Speaking in Lagos on Wednesday, 14th July, during a media launch of 'Airtel Touching Lives 6', Chief Executive Officer and Managing Director, Airtel Nigeria, Segun Ogunsanya, said a strong sense of purpose is driving Airtel Nigeria's relentless focus on sustainable initiatives that can positively impact the various communities where it operates in.
According to Ogunsanya, purpose is powerful as it does not just define an individual or an entity, but drives its every action and decision. "A social license is the love, loyalty, friendship and affection you get from the communities where you operate as well as from your different stakeholders.
Airtel is committed to its purpose of empowering and uplifting people and making a positive and lasting impact in the lives of its stakeholders, thereby earning its social license.
"To realize this vision, the Airtel Touching Lives initiative was created to offer relief and hope to the underprivileged and downtrodden and also inspire the strong and the wealthy to support the vulnerable and the poor."
The Airtel CEO also noted that Airtel Touching Lives 6 will continue to focus on the overall philosophy of the programme while taking cognizance of key events such as the global pandemic that has made life difficult for many people.
"In the last 16 months, our lives have dramatically changed with Covid-19 and its many variants and waves. In our approach for Season 6, we will pay attention to Covid-19 but we will also focus on education and other areas and we will not deviate from seeking out indigent and medically challenged persons who desperately need help," he said.
Ogunsanya urged the public to be part of the initiative by nominating projects, persons and communities that require support.
According to him, "the nomination process is simple. Once you nominate an individual or cause, our team will review and assess the situation and determine if a follow-up visit will be required. The public can nominate individuals or projects in their communities by dialling 367 or by sending an SMS to the Shortcode, 367. Also mail can be sent to touchinglives@ng.airtel.com ".
Currently in its 6th Season, Airtel Touching Lives is Airtel Nigeria's flagship corporate philanthropy initiative aimed at providing succor to the underprivileged, hard to reach, vulnerable and disadvantaged in the society.
Airtel Touching Lives takes the format of a reality television show, allowing the public to nominate causes, communities and underprivileged persons/people with special needs. Airtel thereafter evaluates and selects the causes to support and the activities are filmed and broadcasted on terrestrial and satellite television stations with the aim of inspiring other corporate organizations as well as well-meaning individuals to join in supporting the weak across society.
Airtel Touching Lives is about real people, real stories and the real effort of a corporate organization to uplift the needy and underprivileged, emancipating thousands from the shackles of poverty, despair and hopelessness.
Through the programme, Airtel has refurbished an ICT centre for a large community, built modern water borehole systems for large communities, refurbished cancer centers, refurbished a Library for Blind people, rehabilitated an IDP Camp clinic facility, set up small scale trade for underprivileged persons, paid medical bills of underprivileged children and women and flown many persons abroad for treatment, among others.
Danbatta, Others Extol Retired Deputy Director, Jerry Ugwu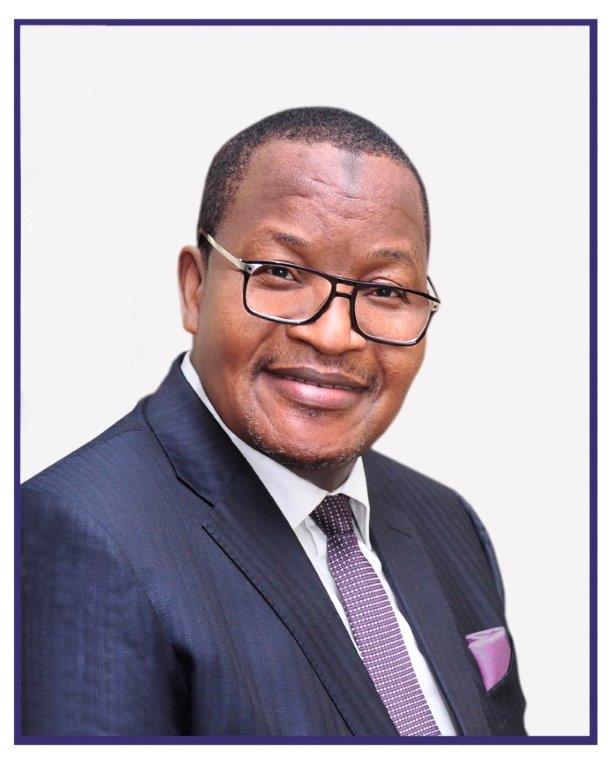 The Executive Vice Chairman of Nigerian Communications Commission (NCC), Prof. Umar Garba Danbatta and other staff of the Commission, have commended the dedication, hard work and outstanding work ethics demonstrated by Jerry Ugwu, a Deputy Director, who recently retired from the service of the Commission.
Ugwu, a seasoned lawyer who has been described by all as a role model to many staff members of the Commission, exited the telecoms regulatory agency, at the mandatory retirement age of 60 years.
He joined NCC in 2010 as Chief of Staff in the office of the Executive Vice Chairman and has moved through the ranks, culminating in his last-held position as Head, Legal Registry Unit in the Legal and Regulatory Services (LRS) Department of the Commission,
Speaking at the valedictory session organised by the Commission in his honour in Abuja recently, Danbatta described the celebrant as a dedicated and exemplary staff with excellent work ethics.
Represented by NCC's Executive Commissioner, Stakeholder Management, Adeleke Adewolu, Danbatta said Ugwu made significant impact in various capacities where he served in the Commission, adding that his dedication to work and gentleman posture are well acknowledged by Management.
"Jerry Ugwu is a pleasant personality; reserved but resourceful. He is a gentleman who is contented and has served the Commission creditably in the past one decade. We, therefore, wish you happy retirement," Danbatta said.
Earlier in her opening address, Director, LRS, Josephine Amuwa, said Ugwu had "served meritoriously in various capacities over the years and contributed his quota to the growth of the telecoms sector." She said Jerry's great personal attributes, such as his analytical skills, deep understanding of the Law, devotion and dedication to work will stand him in good stead in his future endeavours, saying that all the staff of Legal and Regulatory Services Department, will surely miss him, particularly his calm disposition to work.
"This is a day of celebration not only for all you have accomplished but also for all the possibilities that will be unfolding before you. Congratulations! We pray that the Almighty God give you the wisdom and strength needed to fulfill all your personal aspirations, post-retirement. Enjoy the new chapter of your life and enjoy being your own boss; say 'Goodbye!' to tension and 'Hello!' to your pension," she added.
In his remarks, Ugwu thanked the Commission for the opportunity given to him to serve his country and also appreciated his colleagues for orgainsing a befitting retirement. "I am humbled to hear all these good comments that have been said about me and I am grateful to all of you for organising this valedictory party in my honour," he said.
The valediction was attended both physically and virtually by senior management staff including NCC's Executive Commissioner, Technical Services, Ubale Maska; directors, deputy directors, assistant directors and other members of staff of the Commission, as well as family members. They took turns to rain encomiums on the celebrant and wished well in retirement.