Mastercard Foundation, Africa CDC Invest $1.3 Billion On New Vaccination Drive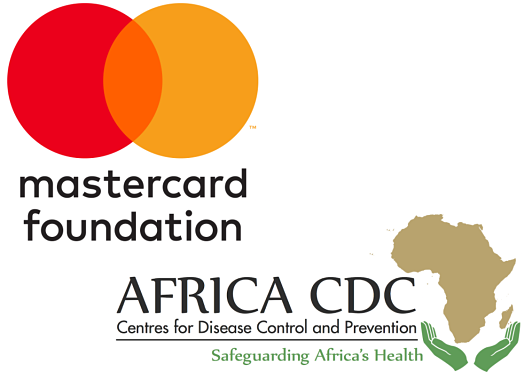 The MasterCard Foundation has announced that it will deploy $1.3 billion over the next three years in partnership with the Africa Centres for Disease Control and Prevention (Africa CDC) to save the lives and livelihoods of millions of people in Africa and hasten the economic recovery of the continent.
The Saving Lives and Livelihoods initiative will acquire vaccines for at least 50 million people, support the delivery of vaccinations to millions more across the continent, lay the groundwork for vaccine manufacturing in Africa through a focus on human capital development, and strengthen the Africa CDC.
Reeta Roy, President and CEO of the MasterCard Foundation said, "Ensuring equitable access and delivery of vaccines across Africa is urgent. This initiative is about valuing all lives and accelerating the economic recovery of the continent. In the process, this initiative will catalyze work opportunities in the health sector and beyond as part of our Young Africa Works strategy," she added.
The African Union's goal as set out in the African COVID-19 Vaccine Development and Access Strategy is to vaccinate at least 60 percent of its population – approximately 750 million people or the entire adult population of the continent – by the end of 2022. To date, less than two percent of Africans have received at least one vaccine dose.
The new partnership builds on the efforts of the COVID-19 Vaccines Global Access facility (COVAX), the COVID-19 African Vaccine Acquisition Task Team (AVATT), and the global community to expand access to vaccines across Africa. The number of vaccines available to Africa represents a small portion of the global supply and the financial costs to purchase, deliver, and administer vaccines remain significant. The Africa CDC is calling on governments, global funders, the private sector, and others to help meet this goal.
Dr. John Nkengasong, Director of the Africa CDC said, "Ensuring inclusivity in vaccine access, and building Africa's capacity to manufacture its own vaccines, is not just good for the continent, it's the only sustainable path out of the pandemic and into a health-secure future. This partnership with the MasterCard Foundation is a bold step towards establishing a New Public Health Order for Africa, and we welcome other actors to join this historic journey."
In 2020, Africa faced its first economic recession in 25 years due to the pandemic. The African Development Bank has warned that COVID-19 could reverse hard-won gains in poverty reduction over the past two decades and drive 39 million people into extreme poverty in 2021. Widespread vaccination is recognized as being critical to the economic recovery of African countries.
The initiative builds on an earlier collaboration between the MasterCard Foundation and the Africa CDC to expand access to testing kits and enhance surveillance capacity in Africa. Through the Foundation's support, the Africa CDC's Partnership to Accelerate COVID-19 Testing (PACT) deployed nearly two million COVID-19 tests and more than 12,000 trained health care workers and rapid responders across Africa. In total, the PACT has enabled over 47 million COVID-19 tests across the continent.
2Africa Consortium Plans Submarine Cable Landing Points in Southeast Nigeria, Three African Countries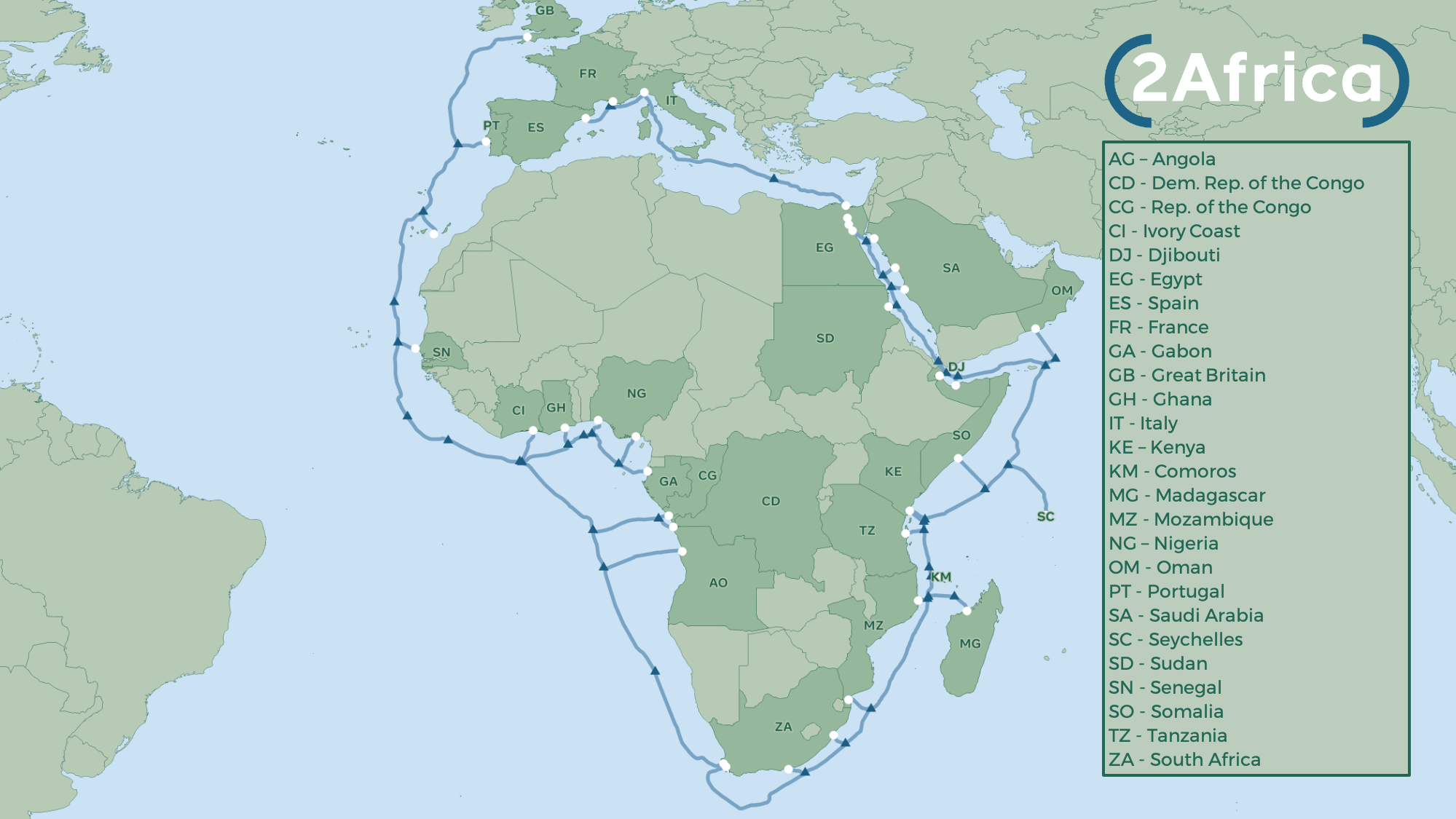 The 2Africa consortium which is building the largest subsea cable project in the world, is set to extend four new branches to South East of Nigeria, Seychelles, the Comoros Islands, and Angola.
The 2Africa consortium, comprised of China Mobile International, Facebook, MTN GlobalConnect, Orange, STC, Telecom Egypt, Vodafone and WIOCC said the new branches join the recently announced extension to the Canary Islands.
2Africa subsea cable will deliver faster, more reliable internet service to each country where it lands. Communities that rely on the internet for services from education to healthcare, and business will experience the economic and social benefits that come from this increased connectivity.
Alcatel Submarine Networks (ASN) has been selected to deploy the new branches, which will increase the number of 2Africa landings to 35 in 26 countries, further improving connectivity into and around Africa.
As with other 2Africa cable landings, capacity will be available to service providers at carrier-neutral data centres or open-access cable landing stations on a fair and equitable basis, encouraging and supporting the development of a healthy internet ecosystem.
Since launching the 2Africa cable in May 2020, the 2Africa consortium has made considerable progress in planning and preparing for the deployment of the cable, which is expected to 'go live' late 2023. Most of the subsea route survey activity is now complete. ASN has started manufacturing the cable and building repeater units in its factories in Calais and Greenwich to deploy the first segments in 2022.
One of 2Africa's key segments, the Egypt terrestrial crossing that interconnects landing sites on the Red and the Mediterranean Seas via two completely diverse terrestrial routes, has been completed ahead of schedule. A third diverse marine path will complement this segment via the Red Sea.
Meanwhile, Broadband network and digital services offered in Seychelles will soon get a boost from a new cable system that will be leased by Seychelles-based telecommunications provider Intelvision Limited with support from IFC.
IFC's support to Intelvision, which provides data, Internet, and Internet-based voice services as well as pay-TV, includes an up to $10 million loan from its own account and an additional loan of $10 million mobilized from partners under the Managed Co-Lending Portfolio Program (MCPP).
The funding will enable Intelvision to lease a new cable being built by Vodafone Carrier Services as a branch of the 2Africa cable network, one of the largest subsea projects in the world, spanning over 37,000 kilometers and connecting 26 countries around the world.
The new cable will complement the existing Seychelles East Africa System and is expected to lower the cost of connectivity for telecom operators on the islands and increase competition for fixed broadband and mobile data services.
"I think it will revolutionize the way we experience the internet here in Seychelles. We are pleased to work together with Vodafone and IFC amidst the challenges of the pandemic. Our aim is to enhance the telecommunication infrastructure of Seychelles and strengthen our digital offering to the people of Seychelles," said Mukesh Valabhji, Chairman, Intelvision. "Our innovative products and services will continue to add value to the ever-growing demands for Internet connectivity. We have been at the forefront of offering affordable connectivity solutions to the Seychellois Nation and we intend to continue on the same path."
The new cable system will deliver over 600Gbps of international bandwidth to Intelvision and will represent a significant step-up with respect to connectivity speeds for households and business customers. The cable will also increase the speed and capacity of Intelvision's existing Fibre Optic & Hybrid Fibre Coaxial Networks.
"Better connectivity is tremendously important for powering economic and societal growth. Vodafone is committed to improving the availability, resilience and speed of Internet connections around the world, and this project to link the Seychelles with the ambitious 2Africa subsea cable will underpin future growth for the country and its citizens," said Nick Gliddon, Director of Vodafone Carrier Services.
Through the 15-year lease agreement with Vodafone, Intelvision plans to launch mobile telephony services in Seychelles, a country where most consumers access the Internet through a mobile phone. The new cable system will also allow Intelvision to eventually expand its terrestrial network by providing 4G and 5G mobile networks to the whole of Mahé and the inner islands.
"By working with Intelvision to expand Seychelles' digital offering, we can help the country meet growing demand for Internet connectivity while helping to lower prices to build a strong foundation for the country's digital economic development," said Marcelle Ayo, IFC's Country Manager for Seychelles.
Seychelles' economy relies heavily on tourism, accounting for 30 percent of GDP, which has suffered due to COVID-19-related travel disruption. Seychelles' government is focused on strengthening the digital economy to support recovery and the next phase of the country's economic growth.
Unveiling The Next Robotics Legend

After a successful first edition in 2020, Union Bank's education – focused platform, Edu360 has announced the call for entries to The Next Robotics Legend 2.0!!
The Next Robotics Legend is an initiative designed by Edu360 in collaboration with Awarri, a pan-African technology company, to infuse Robotics and Artificial Intelligence (AI) into the education of young Nigerian students.
The first edition saw 25 students from across Nigeria receive free training in Robotics and AI, and the successful introduction of AI into the curriculum of some schools, including Greensprings schools, Lagos.
This edition, entries will be received from August 9th – 23rd 2021 on Union Banks website, after which 40 children will be selected to learn 3D printing in addition to AI and Robotics via a robust learning experience at on-site locations in Lagos, Ibadan and Yola and virtual trainings too. Each child will receive a tablet, a Mekamon and access to specialised online resource.
The competition is open to students aged 11 to 16 and will focus on identifying and nurturing young potential inventors and creators and offering them the opportunity to proffer solutions to community challenges using skills learnt.
To enter your child or ward, record a 60-second video of him/her telling us why they should be accepted into the programme, upload on http://unionbankng.com/AWARRI-2 and fill the accompanying consent form. 40 of the most creative and passionate entries will be selected to participate in the two-week training programme.
At the end of the free training programme, the students will be required to identify a need in their community, and apply the skills learnt to proffer a solution. The student with the best solution will be admitted for a mentorship program with Awarri, the advanced AI and roboticscompany owned by Silas Adekunle – a top international robotics engineer renowned for creating the world's first intelligent gaming robot.
Just like the first edition, schools are also not left out! To ensure the sustenance of the initiative, Edu360 will partner with four secondary schools by providing robotics toolkits and training for their teachers to enable them include robotics in their curriculum.
Click here to apply. Also follow Union Bank on Facebook, and Instagram for more information.
#NextRoboticsLegend
Terms and conditions apply.
Chaka Secures $1.5m Funding to Power Digital Investments for African Businesses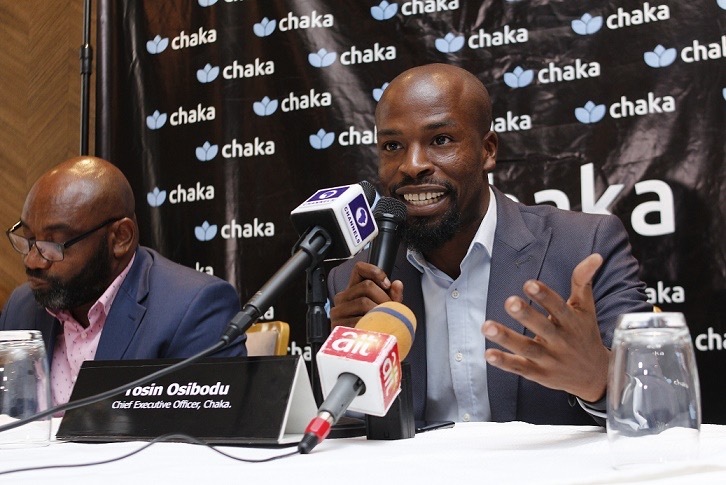 SEC-Licensed Digital Sub-broker and leading digital investment platform, Chaka Technologies, has raised $1.5M in a pre-seed funding round led by Breyer Capital, premier global venture capital and private equity firm focused on catalysing growth in high-impact tech companies like Spotify and Facebook.
Other participants in the round are 4DX Ventures, Golden Palm Investments, Future Africa, Seedstars, and Musha Ventures.
This funding will serve as a catalyst to enable Chaka to continue to power on its mission to enable borderless investments across Africa and deliver digital investments solutions for African businesses. It will also be used towards the expansion of the Fintech's footprints in West Africa to reach more retail investors and attract more foreign players to African Capital Markets.
Commenting on the funding secured, Tosin Osibodu, Co-founder & CEO, Chaka Technologies said "This is indeed a significant milestone for us at Chaka. We see digital investments as an opportunity to boost economic transformation in Africa, and our goal is to use this funding to bring this vision to life. With this capital, we will focus on our goals to build a roster of formidable partners and accelerate our expansion to other markets within Africa. This investment also enables us to hire top talent and integrate more advanced functionalities into our investment and wealth management solutions for businesses."
"Our mission remains the same and we are excited to be backed by VCs like Breyer Capital that trust us and are extremely optimistic of the possibilities that exist for Chaka and Africa." He added.
Also commenting on this feat, Jim Breyer, CEO of Breyer Capital, said "We are proud to combine efforts with a company that is levelling the investment playing field for Nigerians (and Africans at large). We're confident in the value Chaka provides through its digital tools, and we look forward to playing our part in supporting Chaka's team on their mission to drive borderless investments in Africa."
This pre-seed round comes on the heels of the Chaka becoming the first start-up to acquire the new digital sub-broker license issued by the Nigeria's Securities and Exchange Commission (SEC), in line with the regulator's efforts to safeguard the investing public and accelerate innovation within the sector.
Since Chaka's launch in 2019, the platform has levelled the barriers of entry for borderless investments in Nigeria by providing customers with compliant access to the capital market. Chaka's bouquet of products includes a stock trading app for retail investors, Chaka SDK which enables asset managers and financial institutions to offer digital investments to their customers; and Chaka for Business which enables direct business onboarding and provides powerful trading tools for institutional investors.