Why Paystack, Kuda Founders, Others Invested $3.5 Million In Edukoya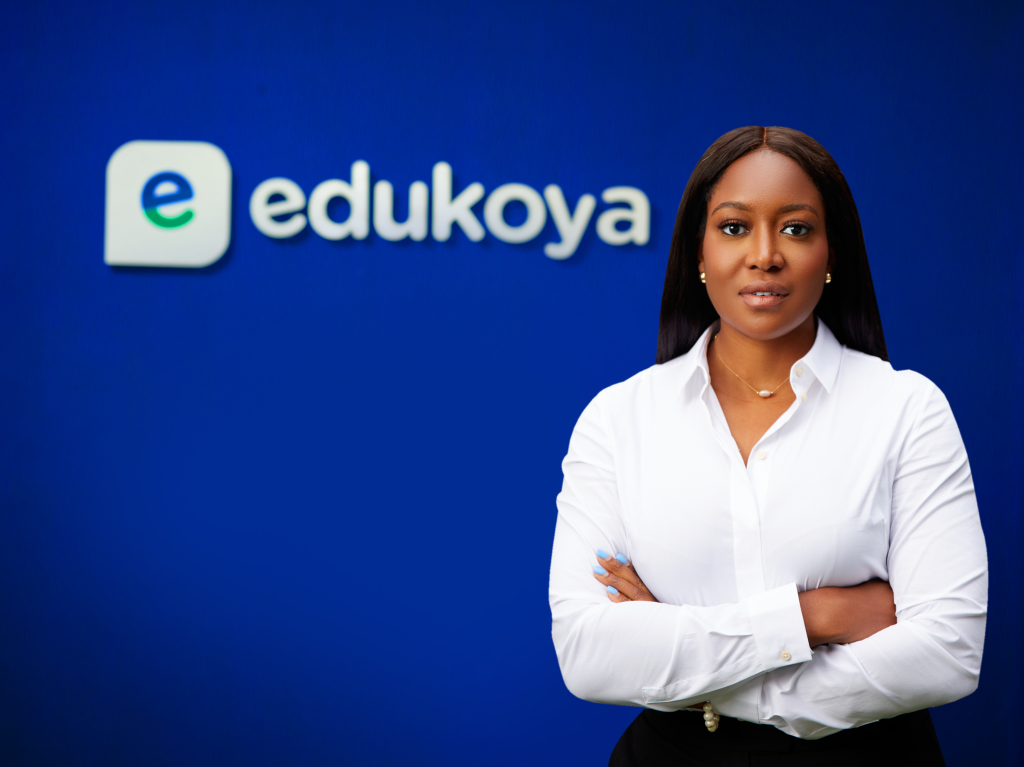 Edukoya, an Africa-focused online learning platform, recently raised $3.5 million in a pre-seed round led by Target Global with strategic participation from angel investors.
They included European and African founders such as Shola Akinlade – CEO and co-founder of Paystack (acquired by Stripe), Babs Ogundeyi and Musty Mustapha – founders of Kuda, Brandon Krieg and Ed Robinson – founders of Fintech Stash and Raffael Johnen – CEO of Aux Money among others.
Launched in December 2021, Edukoya is currently operating in beta, with a focus on Nigeria. In its launch week, Edukoya was the 2nd most downloaded education app in Nigeria. The new funds, the largest pre-seed round for an African EdTech platform to date, will enable the transition from beta to live launch in 2022, as well as expansion of the team, the growth of its user base and the building out the technology for Edukoya's learning platform, including support for its Pan African and European developer hubs.
Edukoya empowers learners and their parents to take control of their learning and makes it easier for them to access high quality learning material and expert help. The platform has a range of valuable features targeted at Nigerian secondary school learners including 24/7 Exam Preparation & Homework tutor help, a data driven question bank with step by step solutions and personalised performance tracking systems.
High quality education is expensive and out of reach for millions of African learners. According to data from the World Bank, African households spend 20-25 percent of their annual GDP per capita on education. Edukoya offers a free, supplementary learning platform, as well as subscription packages with premium features, focused on K-12 learning and exam preparation. The learning experience is delivered through a 100 percent online model which promotes self learning and allows learners to save time, save money and get smarter.
Speaking about the new funding, Honey Ogundeyi, Founder and CEO of Edukayo said: "Our vision at Edukoya is to redefine online education for the next generation of Africans. Africa has the fastest-growing school-age population globally, with over 260M students and counting. Our goal is to democratize access and make high quality instruction and content accessible and affordable to every student, regardless of where he or she lives on the continent"
Lina Chong, Investment Director at Target Global, said, `We are delighted to lead this investment and partner with Honey and her impressive team of education technology pioneers. Edukoya's mission to provide better quality to millions of African Students, combined with the team's ability to execute on this ambition, left an immediate impression on myself and the whole team at Target Global. Their business has the potential to unlock learner potential and improve lives across generations".
Edukoya plans to use its pre-seed funds to go from beta to live launch in Nigeria by 2022. It will also accelerate its product and technology as well as expand its online curriculum content coverage and on demand tutoring feature for secondary school learners.
Collaboration is Key to Bridging the Gap in the Education Sector – Odunayo Sanya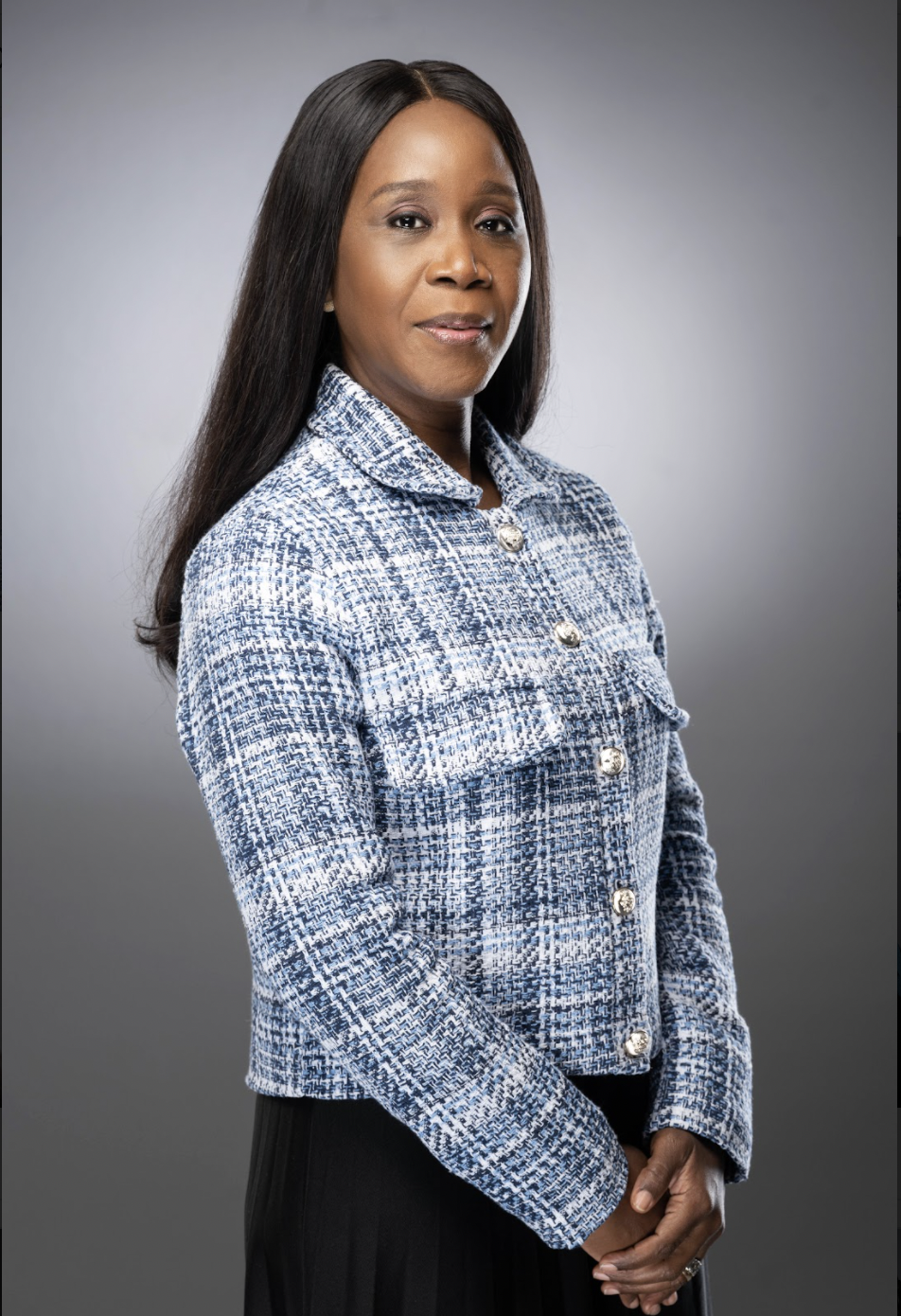 Executive Secretary, MTN Foundation, Odunayo Sanya has emphasized that a major way to effectively bridge the gap in the Nigerian education system is through partnerships and collaborative efforts.
Odunayo who made the assertion during the recent AISEN webinar for educators themed, 'Bridging the Gap', shed light on how the revision of the student's curriculum, community learning, collaborative work, and sustainable efforts can aid in bridging the gap.
AISEN, which is the Association of International School Educators in Nigeria, provides a forum through which members access training, advice, and practical assistance where required. The association provides networking opportunities for educators to share, help and support on professional matters.
Odunayo disclosed that one of the avenues the MTN Foundation collaborates to bridge the gap in the education sector is by making data available to students at various public learning institutions, in partnership with the government and other ecosystem partners.
She stated that "We believe that everyone deserves access to modern connectivity, and we believe it is important to equip young Nigerians, especially in technology. The MTN Foundation has built ICT labs in over 60 public schools across Nigeria. These schools have been equipped with 25 – 30 computers with alternate power. The computers were also equipped with learning materials that will benefit the students, in partnership with some of our ecosystem partners. At the MTN Foundation, we don't want to mind the gap, we want to actively participate in bridging the gap."
The webinar also had in attendance Commissioner of Education, Lagos state, Folasade Adefisayo, and Chief Executive Officer, uLesson Education, Sim Shagaya.
9mobile Future CEO Initiative: Jane-Frances Okorie Emerges Winner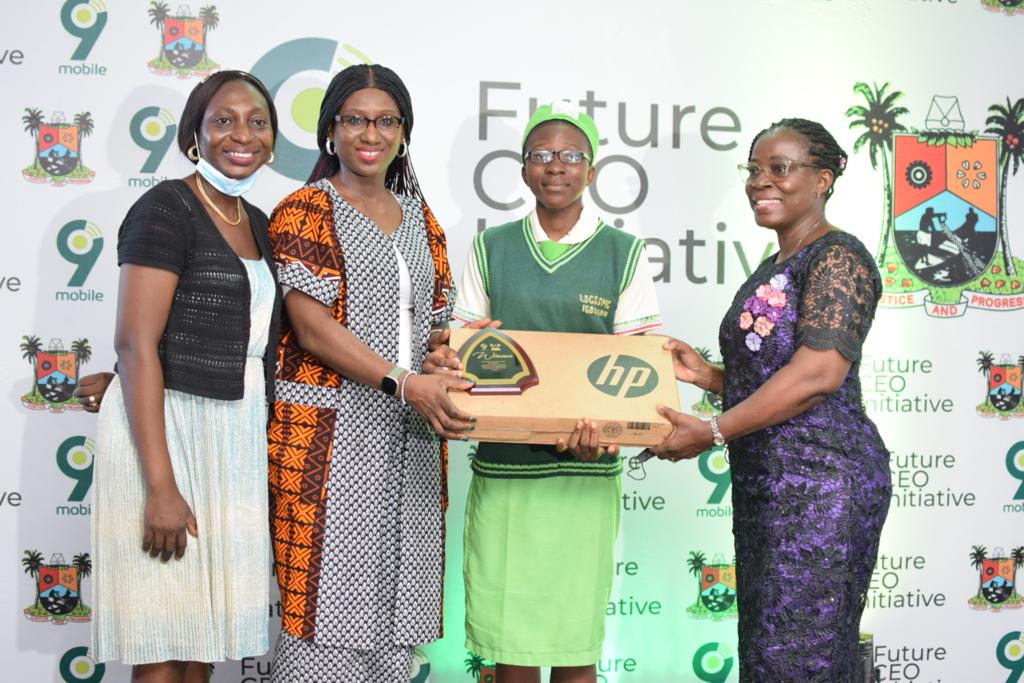 Photo L-R: Education Officer, Lagos State Civil Service Senior College, Igbogbo, Mrs. Stella Obasuyi; PR Lead, 9mobile, Chineze Amanfo; Winner of the 9mobile Future CEO Initiative Speaking Competition, Jane-France Okorie representing Lagos State Civil Service Senior College, Igbogbo and the Director, Co-Curricular Services, Lagos State Ministry of Education, Mrs. Sosanya Olubunmi, during the grand finale of the 9mobile Future CEO Initiative held in Lagos
16-year-old Jane-Frances Okorie has won the maiden edition of the 9mobile FutureCEO speech competition. Okorie, a Lagos State Civil Service Senior Model College student, Igbogbo, Ikorodu defeated nine other finalists in a keenly contested speech battle held at the Immaculate Heart Comprehensive Senior High School, Maryland, Lagos. Over 50 Students from secondary schools within the Lagos State Education District 2, comprising Ikorodu, Kosofe, and Shomolu local government councils, participated in the competition.
The 9mobile FutureCEO is an initiative aimed at inspiring future leaders by stirring up their interest in business and leadership. The initiative also affords promising future leaders an opportunity to walk in the shoes of senior business leaders.
Commending the finalists, the Executive Director, Regulatory and Corporate Affairs, 9mobile Abdulrahman Ado, represented by the PR Lead, 9mobile, Chineze Amanfo, commended the participants for their courage, efforts, and hard work. She said, "You have all demonstrated sound intellectual prowess and excellence in your presentations. This is proof that you are future leaders who are determined to achieve their dreams. 9mobile is proud of you, and we hope that you remain confident in your ability to take up new tasks ahead.
Reiterating 9mobile's commitment to promoting education, Ado stated that the 9mobile Future CEO initiative would help build students' leadership capacity for the future. "To be a good business leader requires much hard work, dedication, and sacrifice. I, therefore, urge you to be focused and determined in whatever you do in life," she added.
Commenting on the competition, the Permanent Secretary, Lagos State Ministry of Education, Mr. Abayomi Abolaji, lauded 9mobile for the initiative, stating that it was germane and in line with the sustainable growth plan of the Lagos state government. He said, "I would like to congratulate 9mobile for putting this competition together. I believe strongly that the competition will help the students improve on their public speaking abilities, build confidence and ultimately spur them on to aim higher in life."
Expressing delight at her win, an elated, Okorie remarked, "Honestly speaking, I am short of words. Let me begin by saying a huge thank you to 9mobile for providing us this wonderful opportunity and platform to express ourselves and inspire us to dream big. To my school management and teachers, thank you for reposing this level of confidence in me to do the school proud."
The panel of judges for the competition comprised of three notable professionals in their respective fields: Hussaina Ishaya Audu, a lawyer and an educational administrator, currently the principal of Greensprings Schools Lekki; Johnson Abbaly, Chief Executive, LightField House International, a talent profiling organization and Temitope Adeyemi, Teachability Expert and Training Re-engineering and Acceleration Advocate.
Tecnotree Partners MTN Nigeria On Education and Gaming Platform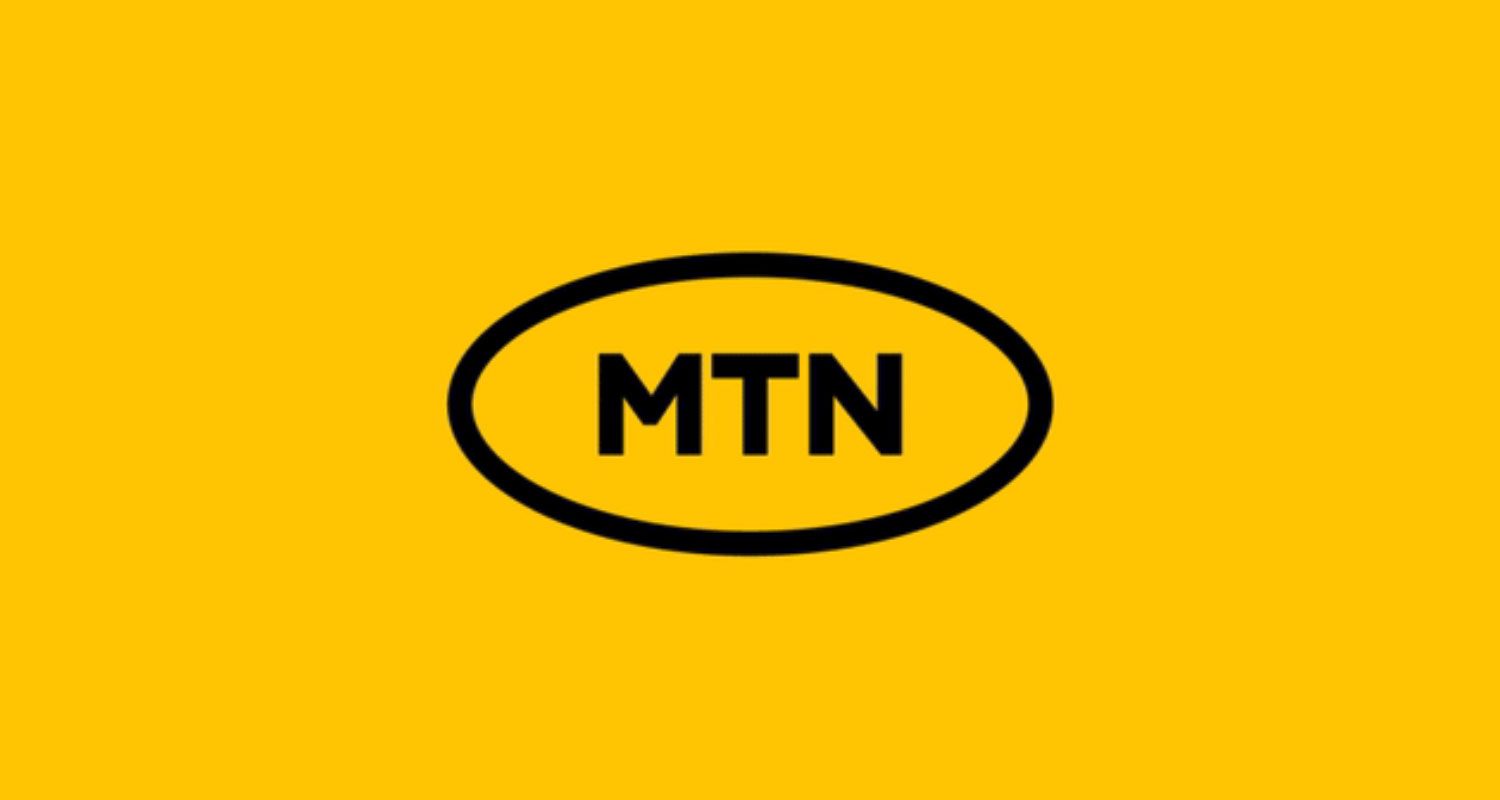 MTN Nigeria and Tecnotree, a Finnish based global provider of digital transformation solutions for have launched a digital services multi-experience platform called Tecnotree Moments.
The multi-experience partner ecosystem offering aims to create lifestyle bundles of content, applications and connectivity through a pre-integrated digital partner ecosystem for global and local high-demand and hyper growth sectors.
The platform will attract leading partners across different sectors such as education, entertainment, gaming, sports, health and wellness, to enter Nigeria and using direct customer billing to convert ecosystem partners into instant revenue generators across enterprise and consumer segments.
MTN's acting chief digital officer, Aisha Mumuni said, "MTN is constantly seeking partnerships to build platforms that provide superior service to our customers. We have always been deliberate about giving our customers the very best in digital content.
"This partnership is a reinforcement of that commitment. The platform will provide enormous quality content that cuts across education and entertainment for our customers," said.
This collaboration between 'Tecnotree Moments' and MTN Nigeria is path-breaking for realising the full human potential of Nigerians across the country and creating an inclusive society that is key to promoting national development. Moments contains the complete Nigerian JSSCE, SSSCE and IGCSE syllabus in the form of interactive and immersive content and live classes.
Also, to remain relevant in the rapidly evolving digital economy, the MTN-Moments partnership will look at providing Massive Online Open Curriculum (MOOC) for career development and progression facilitating the acquisition of soft and technical skills just in time, not just in case.
Considering the local skills and talent pool in the country, the platform will be launched first in Nigeria, with further plans to launch these services across other MTN OpCos in Africa and extend these services to Health Care, Fintech Sports and much more.
'Tecnotree Moments' is a gateway of digital services and lifestyle bundling products, being launched with e-sports content such as PUBG Mobile Daily, FIFA Daily, Rocket League Daily, Fortnite Monthly and Fantasy Football. Its offerings also include Africa's top-played games, with fresh games being updated regularly.
With dynamic brands including GamersHub Media Events (GHME), Smartlink, Hurix, MTutor and more the platform is uniquely positioned to cater for the convergence in education and gaming content around the globe that fosters social and emotional learning, imperative for personalized and adaptive experiences.